SAM Magazine—Burke, Vt., Dec. 18, 2017—An investigation is underway to determine what caused a 1986 LMC 1500 tracked vehicle to rollover Sunday evening on Burke Mountain, killing the driver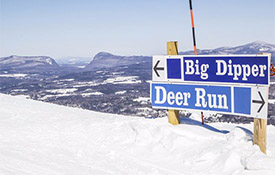 after he was ejected from the cab. The passenger was treated for minor injuries at a local hospital and released.
According to a Burke Mountain spokesperson, the LMC driver, Denny Degreenia, 45, was operating the tracked vehicle at around 5:30 p.m. on the intermediate Big Dipper trail, checking snow guns that were in operation, when the vehicle rolled over. After the incident occurred, the passenger, 27-year-old Clifford Savage, called for emergency assistance. Degreenia was declared dead at the scene by first responders.
Degreenia was a longtime employee of Burke Mountain, having served at the Northeast Kingdom resort since the early 1990s. The Vermont Department of Public Safety is on-scene conducting an investigation.