SAM Magazine—Harris Township, Pa., Dec. 18, 2018—Not long after Tussey Mountain, Pa., opened for the season on the morning of Saturday, Dec. 16, its primary aerial lift—a 1982 Borvig fixed-grip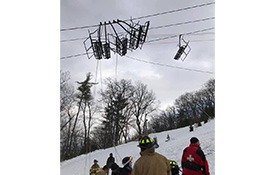 quad—experienced a chair malfunction. As it approached the last towers in the span, a chair slipped backwards on the haul rope and collided with the chair behind it. The domino effect caused a total of four chairs to slip backwards before being stopped by a fifth chair. All the chairs were loaded with passengers.
According to reports, an operator manually stopped the lift, and emergency protocols began immediately. Ski patrol and other rescue personnel rope evacuated the passengers in the bunched chairs first before evacuating the rest of the chairs. A total of 76 passengers were lowered in less than two hours. At least five minor injuries were reported, with at least three people transported by ambulance to the hospital for treatment.
A statement from Tussey said, "The equipment in question was tested and given a passing grade by the PA Department of Labor & Industry's Bureau of Occupational and Industrial Safety Elevator Division, however we have begun taking the necessary steps to ensure a situation like this will never happen again. We have contacted the manufacturer of the lift to diagnose what caused the malfunction, as well as the appropriate state agencies prior to re-opening."
UPDATE: In a statement on Tuesday, Dec. 19, Tussey Mountain said it removed chairs from the involved lift so they could be inspected by a third party investigative company. "At this time, it appears that weakened spring packs inside the chairlift grips caused Saturday's incident, and as a result, we are replacing this entire system on our lift," the statement said. Once the upgrade is complete, the state will inspect the lift before it re-opens. The ski area hopes to re-open by Saturday, Dec. 23.
Tussey Mountain said it is committed to lift safety and injury prevention, and makes every effort to ensure this commitment is achieved. "Tussey Mountain takes lift maintenance and operation seriously. Our mountain may be small compared to others, but our staff is experienced, knowledgeable and passionate about their craft," the statement continued. And while the ongoing training of lift techs and daily lift inspections had left the resort without incident prior to Saturday's event, "we have [begun] self-examining our processes to ensure that incidents like this one will not recur."