SAM Magazine—Woodbury, Conn., Dec. 22, 2017—Josh Bremer's "Junkyard Dog" feature at Whitecap Mountain, Wis., and the Scott Delforte Park Jam at Bristol Mountain, N.Y., are the winners of the 13th annual SAM 2017 Terrain Park Contest. The contest drew nearly 30 entries from around the world.
A total of 1,035 votes were cast in this year's Terrain Park Contest between the two categories: events and features. The results of the contest may point toward some trends in the park world, or at the very least an appreciation for ingenuity, and doing things for the right reasons.
Features winner: Junkyard Dog, Whitecap Mountain, Wis.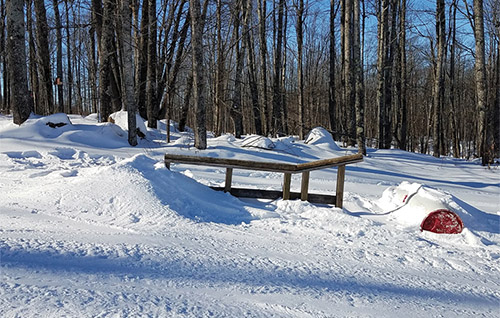 Whitecap Mountain volunteer Josh Bremer didn't have a budget for materials to build terrain park features, so he went to the one place where stuff is still free: the junkyard. Salvaging posts and 4X4s, he put them all together into a smooth beam to create a flat-to-launch rail. Another found treasure: a large barrel ride was added at the termination of the rail for an extra bit of fun. This type of small, handmade feature has become increasingly popular in the past several years.
Bremer's creation garnered 33 percent of the total votes, more than double that of the runner-up, The Baker's Dozen from Grouse Mountain, B.C. The two couldn't be any more different. Baker's Dozen is a massive snow feature built for the Red Bull Uncorked event with the help of pro snowboarders Mark McMorris and Seb Toutant. It's safe to say no materials were salvaged from a junkyard for it.
Events winner: The Scott Delforte Park Jam, Bristol Mountain, N.Y.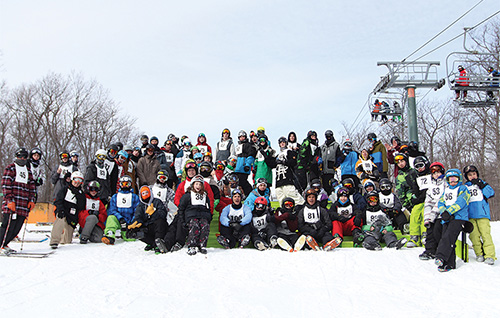 The 13th annual Scott Delforte Park Jam, hosted at Bristol Mountain, N.Y., raises money for the local school's snowsports program. Since its inception, this fundraiser has paid for 335 students to ski and snowboard. The event is open to all age groups and skill levels. It includes two 35-40-foot jumps (with smaller platforms for beginners) for a big air contest, and a rail garden that hosts a rail jam.
Its mission and its format must've struck a chord with voters. The same could be said for the runner-up, Girls Rock the Park at Ski Sundown, Conn., which finished only four votes behind. Going on its fifth season, Girls Rock the Park is a grassroots event that is designed to help introduce girls ages 8 and up to the joys of terrain parks.
Congrats to our winners, who will be getting a swag bag from our friends at Burton. Huge thanks to Burton for their support of the contest. Thanks also to everyone who voted. And to all you terrain park builders out there: keep up the great work.