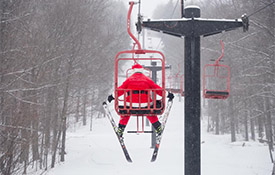 SAM Magazine—Dover, Vt., Jan. 11, 2018—As usual, Mother Nature played a significant role in how successful mountain resorts were during the first major holiday period of the winter. Too warm, too dry, too cold, too windy—visits in many regions were dampened by the weather.

Here's a sampling from across the country. If we missed you, please add your view in the comments.
In Maine, consistent snow at Sunday River leading up to the holidays helped fill the resort's lodging properties, with reservations for the holiday week up 15 percent compared to last year. And a major increase in overall season pass sales—up 30 percent year over year—may have helped fill more chairs. "The combination of full hotels and more passholders did well to buffer us against the cold," said communications director Darcy Lambert. "We probably saw 20 percent less day tickets sold during the holiday period, but it's hard to say if it was because of the cold or because we had converted those ticket-buying guests into passholders."
The snow conditions in New Hampshire were some of the best the state has had during Christmas week in a long time, but the cold and wind limited operations for some of the state's ski areas, and limited visitation otherwise. Ski NH executive director Jessyca Keeler said of the resorts that reported numbers, business was down an average of 43 percent compared to last year, despite an abundance of open terrain. Black Mountain said the glades were great all week, King Pine was 100 percent open with several activities going on all week, Granite Gorge reported "an amazing amount of tubers," and Cranmore's Becca Deschenes said, "to have this amount of terrain and be 100 percent open for tubing is a first for us this early in the season."
Careful management of costs and clever strategies for separating guests from their money softened the downturn in visit numbers. Waterville Valley's director of sales and marketing Matt Hesser summed it up: "During times of low visitation or operational challenges, we can still keep the business healthy through efficiently managing labor vs. sales and through achieving higher sales vs. skier visit ratios." That focus resulted in a 23 percent increase over budget in sales per skier visit at Waterville, according to communications manager Whitney Vos.
In neighboring Vermont, visits were down anywhere from slightly to nearly 30 percent, according to Ski Vermont marketing and communications director Sarah Wojcik. "However, lodging and F&B either held steady YOY or even surpassed last year in some cases," she said. "Also, Magic is reporting record breaking numbers for visits and F&B, and Mount Snow saw more visits than forecasted on a few days." Like New Hampshire, resorts had 80-100 percent of terrain open over the holiday, which is more than any holiday season in the past 10 years, at least. "We're easily looking at 100 percent of the terrain being open for MLK," she said.
In New York, lake-effect snow benefitted the ski areas in the western part of the state, where visits were up over the holiday week, according to ISKINY president Scott Brandi. He said the central part of the state was generally flat, and resorts in the eastern portion were down due to the cold weather.
Just to the north in Quebec, ASSQ president Yves Juneau said the record breaking cold temperatures led to a disappointing holiday week for the province's ski areas. "The disappointment was even bigger for us since the snow conditions could not have been better," said Juneau. "Many ski areas had over 90 percent of the terrain available, like Tremblant (93 out of 96 runs open). There were just few skiers and snowboarders to enjoy it." Compared to last year's successful holiday period, visits were down 20 to 50 percent. However, like many regions, hotel occupancy was strong at all destination resorts, which buffered the lack of day visits a bit. And resorts offered special activities due to the extreme cold to improve the guest experience. Bromont, for instance, had free movies in its lodge, with free hot chocolate and popcorn.
Despite the challenges, Juneau said, "We are still hopeful for the rest of the season. With such great conditions, everybody is confident." And the week ended well, with strong visitation over the weekend of Jan. 3-4.
Given the weather, being a little further south was a benefit over the holidays. Molly Ross, general manager of Blue Hills Ski Area, located just outside of Boston, said Blue Hills was up in both visits and revenue, and the holidays were quite busy. Mountain Creek, N.J., COO Jason Bays said, "It was actually a good thing to be the warmest ski area on the East Coast. Our visits and revenue for the holidays were up over last year."
And it was even better further to the south. Beech Mountain, N.C., had a banner holiday period, according to director of marketing Talia Freeman: "We had a dramatic increase in traffic from previous years," she said. "I attribute the success to the cold December and increased advertising on our part. Natural snow is also a big help!"
A majority of the Midwest was able to flex its snowmaking muscle earlier than normal, so areas are enjoying ample open terrain and deep base depths, said MSAA president Amy Reents. This is a welcome improvement from the last couple winters, when many ski areas in the region struggled to even open for Christmas week. Alas, the cold weather hung around: "Many ski areas spent most of the two weeks below zero [degrees], so unfortunately those that had the cold did not see good business," said Reents. But some of the southern Midwest states were not quite as cold and weren't as impacted. "We are very pleased with the crowds we had over the Christmas break," said Greg Fisher, VP of marketing for Peak Resorts, which owns seven properties in the Midwest, many of which are toward the southern portion of the region.
In the West, the central and southern Rocky Mountain resorts have received a fraction of their normal snowfall; the further south, the more severe the drought. Resorts and state associations have been mum on actual visit numbers, but several resorts have said that visits are way down. Lodging and other services business, though, has remained fairly strong.
How bad was the snow drought through Jan. 8? Colorado was at 50 percent snowpack on average, and southern Colorado was less than that. A similar situation prevailed in Utah, though the northernmost mountains were at 85 percent of normal; southern Utah mountains ranged from 5 percent to 35 percent of normal. Some areas in Arizona and New Mexico had received less than a foot of snow on the season. Across the central and southern Rockies, resorts typically had only a fraction of their total terrain, in some cases less than 25 percent, open for the holidays.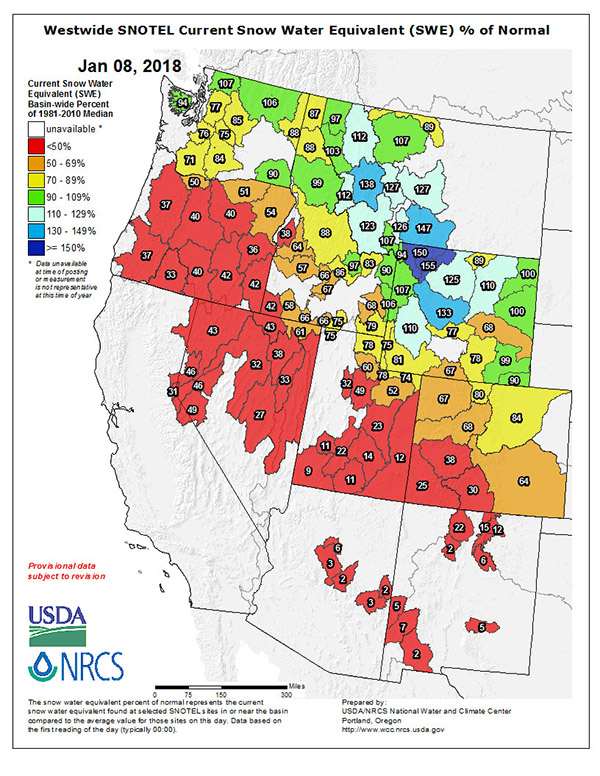 But it wasn't all bad news for resorts in the Rockies. Colorado Ski Country USA public affairs manager Chris Linsmayer said, "Nearly all resorts in Colorado received significant snowfall in the days leading up to and on Christmas," which opened more terrain and freshened surfaces. He also said new mountain coasters at Copper, Steamboat, and Snowmass were all a big hit.
Resorts in the northern Rockies fared better. With nearly 200 inches of snow so far this season, Jackson Hole is one of the exceptions to the western snow shortage, and business over the holidays reflected that, according to a release from the resort. "This holiday season was very successful in terms of skier visits and, most gratifying to us, overall guest experience," said JHMR president Jerry Blann. "We had a significant storm drop 37 inches right before the Christmas holiday, and small accumulations throughout the holiday period, which allowed for great skiing and riding."
In the Pacific Northwest, location was everything. Business levels somewhat reflected the snowpack, according to PNSAA president John Gifford. Visits in Washington are essentially even with last year, he said, with snowpack in the northern mountains ranging from 88 to 107 percent of normal. That helps even out the more southerly resorts, where snowpack is between 71 and 85 percent of normal.
It has been a little different in Oregon. "For the resorts that are in full operations and have reported visits as of January 8, they are down about 15 percent from last year," said Gifford. "As a total, counting five resorts operating last year at this time, but that are either not open or in full operations yet this year, the visits are down 30 percent." Oregon Snowpack as of January 8 was just 33 to 54 percent of normal.
In the snowy western provinces of Canada, very cold weather in the early part of Christmas week hurt day visitation, even as the temperatures rose toward the end of the week, said Canada West Ski Areas Association president Christopher Nicolson. Destination resorts weren't affected as much thanks to advance bookings, but smaller community areas, especially those located in more northern locales, didn't see strong visitation as a result of the chilly weather. The week ending Jan. 8 was much stronger, according to Nicolson. While he didn't have exact numbers, Nicolson said most resorts were down year over year, but good snowpack and favorable forecasts have operators thinking optimistically about the rest of the winter.
In California, the snowpack was about one-fourth of average in early January, with some areas of the Sierra Nevada measuring as low as 3 percent of normal. Many of Lake Tahoe's nordic trails were closed through the holidays.
California Ski Industry Association president Mike Reitzell said resorts were generally down following strong holidays the last two years, but reports have said that local towns were still quite busy. "The resorts that did the best were those at higher elevations and ones with robust snowmaking," he added. But it's been a struggle for some: "Unfortunately, some of our resorts have yet to open or had to close after opening," he said. He's hopeful that recent storms will turn things around quickly.
As of today, Taos in New Mexico has received a total of 18" of snow this season, with much of that coming since the holiday period. Still, the register is ringing, according to Taos CEO Dave Norden: "We are having a very good year financially, but visits are down. A New hotel and state-of-the-art learn to ski center have been contributing very positively to the early results," he said.
In a sign the weather pattern may be changing, several resorts in Colorado and Utah have reported two feet of snow in the past several days, sparking hope and lifting spirits. Snow has been falling this week in California, Utah, New Mexico, and Colorado, and Open Snow predicts a parade of storms should hit the Western U.S. in late January.