SAM Magazine—Lakewood, Colo., Jan. 12, 2018—In an important legal ruling, the Colorado Civil Rights Division sided in favor of Winter Park Resort over a recent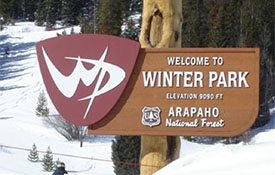 disability discrimination claim against the resort regarding its restriction on service animals riding chairlifts. It's the first legal challenge ever against a ski area over service animal restrictions on chairlifts.
Last summer, an Iraq War veteran who has post-traumatic stress disorder (PTSD) and mobility challenges asked Winter Park if her service dog could ride the resort's chairlift up to a mid-mountain area. Winter Park has a written policy that only allows service animals to access the resort's two enclosed aerial lifts—the gondola and cabriolet—but restricts any animals from riding open lifts. Avalanche dogs can only ride open lifts in an emergency or when the resort is not open to the public. Resort staff offered to transport the guest and her service animal up the hill in a motorized vehicle, but the guest declined.
Colorado's Civil Rights Division director Aubrey Elenis—who is also an attorney—ruled that Winter Park did not discriminate against the guest, but that there is a legitimate reason service dogs aren't allowed on chairlifts—it "poses a threat to the service dog, skiers, staff, and rescuers who might have to rescue an animal from the chairlift," ruled Elenis. The plaintiff's claim that the safety issues were speculative because there are no specific examples of injury or death related to service dogs riding chairlifts was rejected.
The real kicker is that Elenis concluded the plaintiff did not need any accommodation for her service animal because she "utilized [Winter Park's] chairlifts 43 times last season" without her service animal. "As such," the director ruled, "evidence demonstrates that [Winter Park] did not deny [her] the full and equal enjoyment of its resort."