SAM Magazine—Teton Village, Wyo., Jan. 18, 2018—Jackson Hole Mountain Resort (JHMR) has named Mary Kate Buckley to succeed Jerry Blann, effective June 1,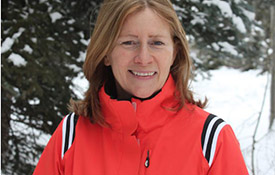 2018. Blann has served as president since 1995. JHMR, independently owned by the Kemmerer Family, conducted a search to fill the role, and is pleased to bring Mary Kate with her strong ties to Jackson Hole and her extensive business experience.

Buckley comes from outside the ski industry (sort of), but knows JHMR well. She first visited Jackson Hole in 1985 as an avid skier, and returned to ski every year for two decades. In 2005, she purchased a home in Teton Village, and became a permanent resident in 2009. She has served on the JHMR board of directors since 2014. Notably, in multiple years, she has earned membership into Jackson Hole's 100 Ski Day Club, achieved by skiing 100+ days at Jackson Hole Mountain Resort in a ski season.
Currently, she is a co-owner of Azienda Agricola Urlari, a premium boutique winery in Tuscany that she co-founded in 2004, and a trustee of Silicon Couloir, Jackson's entrepreneurial advisory firm. Buckley holds a bachelor of arts from the College of the Holy Cross and an MBA from Stern / NYU School of Business.
Beyond the wine business, Buckley worked for Disney Consumer Products for eleven years, extending the Disney brand to new markets in Asia and Europe through licensing and retail development initiatives. She also worked for Nike, also for eleven years, and was a Nike corporate officer and co-founder of the Women's Leadership Council. Her general management roles at Nike included e-commerce-enabling nike.com and introducing Nike ID, and identifying market opportunities and deepening consumer engagement to grow the footwear, apparel and equipment businesses in the Americas Region (Latin America and Canada). She also led Nike's $2 billion apparel business for Europe, Middle East and Africa.
"Mary Kate is an engaged community member who understands the Jackson Hole business challenges and opportunities," said Jay Kemmerer, JHMR owner and chairman of the board. "Her extensive experience leading diverse organizations, driving business and brand strategies in global markets will help Jackson Hole stay relevant and true to character in the increasingly competitive ski industry. I invited Mary Kate to join the board of JHMR 3 years ago for her retail experience, but found much more: a quick study, a strategic mind, someone already integrated into the Jackson community, and with great passion for skiing."
In late November, Blann announced he will step down as president of Jackson Hole Mountain Resort (JHMR) at the end of this winter season. "I'm looking forward to spending more time with state and local boards while enjoying the mountains in all seasons," said Blann. "I have enjoyed working with Mary Kate on the board. She will inherit an incredible resort and a great management team poised to continue its industry-leading brand presence."