SAM Magazine—Orcas Island, Wash., Jan. 25, 2018—The man who brought ski movies to the mainstream, Warren Miller, died Wednesday at the age of 93.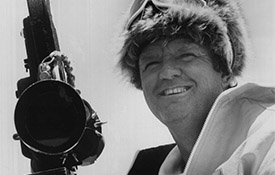 In his long and storied career, Miller produced more than 500 adventure-sport films, including more than 60 annual features that, for many, signal the beginning of winter when they premiere in fall each year.
He was a true enthusiast of the sport of skiing and a promoter of the freedom and thrill it provides. "I really believe in my heart that that first turn you make on a pair of skis is your first taste of total freedom, the first time in your life that you could go anywhere that your adrenaline would let you go," Miller said at age 86.
Read all about Warren Millers life and legacy in this terrific tribute written by Ron Judd, published by The Seattle Times.