SAM Magazine—Lakewood, Colo., Jan. 31, 2018—Resorts can now enroll to participate in the 2018 NSAA Climate Challenge. The Climate Challenge is a voluntary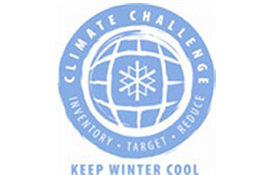 program dedicated to helping participating ski areas track, report, and reduce greenhouse gas emissions as well as reduce energy costs. The deadline for enrollment is May 18.
Thirty-eight ski areas are currently participating in the 2017 Climate Challenge, and NSAA is hoping more will come on board for 2018. "Climate advocacy is mainstream. We are at a tipping point and we can make a difference if more resorts enroll in the NSAA Climate Challenge," said Geraldine Link, NSAA director of public policy.
Participation in the program includes access to several resources and training opportunities, including the new Climate Adaptation Toolkit. To be eligible, an applicant must be a ski area member of NSAA that endorses the Sustainable Slopes program.
Speaking of Sustainable Slopes, applications for the Sustainable Slopes Grant Program and info about the program are now available on NSAA's website. The grant program is designed to provide seed money and/or services for resort sustainability projects and initiatives. The deadline for applications is April 3.
For more information or to enroll in the Climate Challenge, visit the NSAA Climate Challenge page at nsaa.org.
For more information or to apply for a Sustainable Slopes grant, GO HERE.