SAM Magazine—Olympic Valley, Calif., Feb. 2, 2018—Squaw Valley Alpine Meadows is working with regional electricity provider Liberty Utilities to identify and develop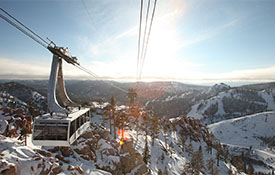 new renewable energy generation, storage and energy efficiency projects, primarily solar, that will provide clean energy to the region. Subject to regulatory approval, the two companies intend to achieve the resort's 100 percent renewable energy goal as early as December 2018.
Liberty Utilities has been working on two solar projects, including a 50-megawatt solar generation plant, and a recently approved 10-megawatt solar facility, according to Greg Sorensen, president of Liberty Utilities' West Region. "Squaw Valley Alpine Meadows has been very clear about their goal of powering their operations with 100 percent clean, renewable energy as soon as possible," said Sorensen. "We are very supportive of their initiative, which helps accelerate our transition to renewables to benefit customers throughout our service territory."
"We take accountability for our company's contribution to CO2, hence our longstanding and unyielding internal focus on reducing our overall footprint," said Andy Wirth, president and COO of Squaw Valley Alpine Meadows. "We're glad to finally advance on this key, strategic level changeover to 100 percent renewable-sourced energy."
With this change, Squaw Valley Alpine Meadows will reduce its total annual carbon footprint, including fuels and other sources unrelated to the power grid, from 13,078 metric tons to an estimated 6,682 metric tons—a 49 percent reduction which is equivalent to the emissions generated by the annual electric use of 959 homes.
"Today's announcement demonstrates that moving to all renewable energy in the present tense—not a generation from now—is not just possible, it's entirely doable. We have all got to generate the demand for renewable energy and support world-class and progressive companies like Liberty Utilities," said Wirth.