SAM Magazine—Jackson, Wyo., Feb. 4, 2018—Snowbird majority owner and former Powdr Corp. owner Ian Cumming died Friday at his home in Jackson, Wyo. He was 77.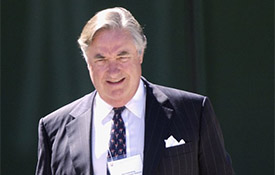 Cumming made a name for himself in the ski industry as the owner of Park City-based Powdr Corporation, which at one point owned Park City Mountain Resort and currently owns and operates eight ski areas in addition to its Woodward adventure lifestyle facilities. In 2014, Cumming acquired majority interest in Snowbird Ski and Summer Resort from co-founder Dick Bass. Under his ownership, the resort has undergone millions in capital improvements.
Ski Utah president Nathan Rafferty said, "The Cumming family has Utah skiing in their blood. Our thriving industry wouldn't be where it is today without Ian's vision and leadership. Our thoughts are with the Cumming family as they mourn the loss of a true Utah ski industry icon."
Executive vice president and chief development officer of the U.S. Ski and Snowboard Team Foundation, Trisha Worthington, said Cumming and his wife Annette were longtime supporters of the ski team and its foundation. "He was a good friend and a great business mentor for this organization," Worthington said. "He wasn't shy about sharing his opinion, which was good and healthy and helped us in many ways."
A zoology graduate from the University of Kansas in 1962, Cumming received his MBA from Harvard Business School in 1970. He began building his fortune when he and a graduate school classmate bought a bankrupt holding company called Talcott National in 1978 and renamed it Leucadia National. By the time Cumming retired from Leucadia in 2013, the conglomerate was valued at $6.8 billion.