SAM Magazine—Jay, Vt., Feb. 16, 2018—The official opening of Jay Peak's Clips & Reels, a $5 million indoor movie theater, climbing wall and arcade center, marks the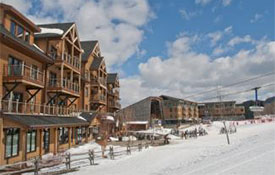 end of nearly a decade of major development at the resort—and the beginning of the process to sell the property, along with sister resort Burke Mountain.
Since going into receivership in April of 2016 after its former owner was accused of defrauding millions of dollars in foreign investor money, court-appointed receiver Michael Goldberg has made it clear he intends to make sure the properties maintain value when they eventually hit the market.
The recent settlement reached between the Securities and Exchange Commission and Ariel Quiros, the former owner, and Bill Stenger, the former CEO, has cleared the titles for the hotel at Burke, and the hotels, condos, waterpark, and other amenities built at Jay. As a result, it clears the way for the sale of the two resorts. Goldberg plans to market the properties together, and expects them to sell before next ski season. No price has been published.
A report by vtdigger.com said this will greatly benefit the foreign investors, who got involved with the projects at Jay and Burke by participating in the EB-5 Program. The investors' original contracts gave them an interest in partnerships of the projects, but not of the mountains themselves. Now, the investors own Jay Peak and Burke mountains, including the ski operations. When the resorts sell, they could recoup millions of dollars more than what was originally worked out.
Read the full report on vtdigger.org