SAM Magazine—Denver, Colo., March 12, 2018—Alterra Mountain Company will invest $555 million across its portfolio of 12 mountain resorts over the next five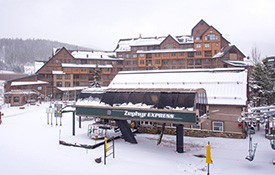 years, including $130 million for the 2018-19 winter season.
How did Alterra move so quickly? The presidents from each of the company's resorts proposed their improvement priorities for the next five years. Plans for each destination were based on current needs and input from guests. "At our core, we are a ski company, and we offer year-round mountain experiences to skiers, riders and summer visitors of all ages from all over the world," said Rusty Gregory, Alterra Mountain Company CEO. "Each aspect of our business plays a part in the guest experience, from a welcoming base area to an efficient ski school to exceptional services.
"It is our commitment to invest in each of our destinations in order to grow the sport, offer a variety of activities, inspire loyal guests, and instill a love of the mountains in all that visit. We do that through thoughtful and innovative capital investment that improves a guest's experience, while we continue to support and preserve the character and traditions of each destination," said Gregory.
The $555 million budgeted improvements will be invested broadly to elevate the guest experience and introduce innovation and technology through new chairlifts and gondolas, snowmaking, food and beverage offerings, base areas development and access, and new adventurous summer experiences.
Planned improvements for 2018-19:
Zephyr Gondola and Increased Snowmaking at Winter Park Resort, Colo.: Alterra will replace the Zephyr Express quad at the Village base with the new 10-passenger Zephyr Gondola. This will expand uphill capacity from 2,300 to 3,200 guests per hour, decreasing wait times by 15 minutes during peak season, and providing faster service to the Seven Territories of the mountain and the Lodge at Sunspot.
Winter Park Resort's 42-year old snowmaking system will be upgraded with state-of-the-art energy efficient systems. Given the mountain's base elevation of 9,000 feet, quality snowmaking could help to extend the season and enhance early-season offerings. Total investment this year at Winter Park will be about $28 million.
Canyon Lodge & Summer Attractions at Mammoth Mountain, Calif.: Canyon Lodge sees 60 percent of Mammoth Mountain's visitors, and will receive a redesign over the next two years, positioning it to become the day lodge of the future. An enhanced guest arrival will include new retail space, user-friendly access to rentals and ticket windows, new food and beverage services, and a redevelopment of the popular snow beach area.
New summer adventure attractions will be available for fall 2018 at Main Lodge at Mammoth Mountain, including a two-span zip line tour that Alterra said will be the longest top to bottom zip line tour in North America, plus a via ferrata rock climbing experience suspended on the mountain face, and junior ropes courses.
Bear River Restaurant, Steamboat, Colo.: Steamboat's most popular slopeside après ski destination is getting a complete overhaul and new design, including new kitchen, enhanced menu options, and the enclosure of a portion of the outdoor space that will increase seating capacity by 72 seats.
Snowbowl Chairlift at Stratton, Vt.: The new Snowbowl Chairlift will replace the 31-year old fixed grip quad with a high-speed detachable quad that will increase beginner skier accessibility, alleviate mountain choke points, and will enhance the guest experience with a quicker ride to the summit.
Stratton will also be introducing a downhill mountain bike park, with more than four miles of introductory and intermediate trails, to start. The new lift and the bike park, plus other improvements, will total about $10 million.
Lowell Thomas Chairlift and Increased Snowmaking at Tremblant, Quebec: The Lowell Thomas Chairlift will be replaced with a high-speed detachable quad chairlift, increasing uphill capacity by 33 percent. Energy-efficient snowmaking capacity along the upper portion of the Algonquin trail will be increased by 50 percent, offering visitors earlier access and more reliable snow conditions.
Base Area Improvements at Big Bear Mountain Resort, Calif.: Development at Bear Mountain will include enhancement to existing facilities, common pedestrian areas, and the learn to ski area.
Snowmaking Overhaul at Snowshoe, W.Va.: Snowshoe's current snowmaking system will be replaced with a state-of-the-art, energy-efficient system, including a portion that will be automated.
The company said additional capital projects will be announced in the fall.
Alterra Mountain Company comprises 12 mountain destinations in five states and three Canadian provinces: Steamboat and Winter Park Resort, Colo.; Squaw Valley Alpine Meadows, Mammoth Mountain, June Mountain, and Big Bear Mountain Resort, Calif.; Stratton in Vermont; Snowshoe in West Virginia; Tremblant in Quebec, Blue Mountain in Ontario; Deer Valley Resort, Utah; and CMH Heli-Skiing & Summer Adventures, B.C.