SAM Magazine—Killington, Vt., March 22, 2018—After several years of building out its summer activities, Killington is offering a new year-round "season pass" for $99 a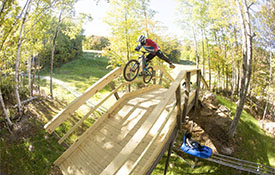 month. The Beast 365 Year-Round Pass provides access to all of Killington's year-round activities, from golf, mountain biking, and the Adventure Center to the lifts at Killington and Pico.

Specifically, the adult year-round pass for $99 a month ($79/month for ages 19-29 and over 65; $69/month for ages 7-18) includes unlimited winter lift access, summer mountain bike lift and trail access, golf course greens fees for Killington's 18-hole golf course, and Adventure Center access. Discounted monthly payments are available for select age groups.
Killington's mountain bike trail system encompasses 29 trails that run more than 30 miles. The Adventure Center options include a mountain coaster, zip lines, ropes course, Segway tours, alpine tubing, free fall tower, paddle sports on Snowshed Pond, and the new WreckTangle.
The passes come with a slew of other discounts, ranging from free midweek greens fees at Stratton Mountain Golf Club and Mount Snow Golf Club to two free summer gondola rides for passholder friends and F&B discounts.
"With a $16 million investment in both our summer and winter operations including new attractions at the Adventure Center and enhancements to our Mountain Bike Park, it was the perfect time for us to introduce a year-round pass, as more guests are visiting year-round," says Mike Solimano, president and general manager of Killington Resort.
If there's a catch to the $99 a month pass, it's that you have to buy for 12 months at a time. It also renews automatically. However, the $1188 cost compares favorably to a winter season pass to Killington, at $939. A pass to Pico is just $99. All pass prices quoted above apply to purchases made before June 14.
Earlier this winter, Mammoth Mountain unveiled a product that follows a similar model called the Work & Play Membership. For $99 a month for 12 months, membership includes a Cali4nia Pass (with access to Mammoth, June, Snow Summit, and Big Bear) valid through January 2018, mountain bike lift and trail pass for summer 2018, and unlimited access to the Fort, Mammoth's co-working spaces that debuted this season.
Killington's 2018-19 Winter Season Passes include unrestricted access at Pico Mountain and a host of benefits: discounts on lodging, snowsports lessons, food and beverage, retail at both resorts and discounted access to the Killington Bike Park and Snowshed Adventure Center for summer 2018. Discounted rates are available for select age groups.
Other winter passes include the all-ages 2018-19 Midweek Pass ($519 if purchased before June 14), and the Vermont Student Pass, for eligible students in grades K-12 ($369). New this year is a 4-Day non-transferable pass, which will offer winter lift access on any four days during the 2018-19 season for $249, with discounts available for select age groups.