SAM Magazine—March 28, 2018—The month of March came in like a lion for ski areas across the country, a welcome shot in the arm after what was turning out to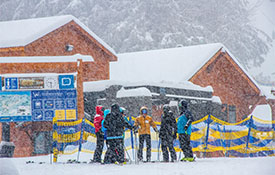 be a challenging season from coast to coast. The first two-and-a-half weeks of the month brought a parade of storms—powerful systems off the Pacific, and complicated Nor'easters on the East Coast—that dumped several feet of snow, attracting crowds and extending the seasons for many ski areas.
In the East
With multiple Nor'easters in less than two weeks dumping snow in metro areas as well as in the mountains, powder-hungry East Coasters got their fix.
Mount Snow in southern Vermont measured 83 inches of snowfall this month, most of it coming in the first 10 days, accounting for nearly half of the total season's snowfall. It's the second-snowiest month in the resort's history. "The biggest takeaway from the March snow has been the increase in midweek traffic," said Peak Resorts VP of marketing Greg Fisher. The storms started midweek, got a lot of buzz in the media, and people responded. "As a result, we had weekend visitor numbers on midweek days, and gave the resort a big bump."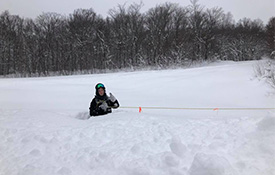 Lift ops digging out at Mount Snow, Vt.
Like many resorts in the Northeast, Wildcat, N.H., needed to make snow in late-February just to fatten up its primary trails after a warm spell wreaked havoc on base depths earlier in the month. As snowmakers were still packing up their equipment, the resort picked up more than four feet of snow in 10 days. "Wildcat's increased skier traffic during the month of March has all but erased any skier visits we lost during February's little temperature tantrum," said Fisher.
After 40 inches of snow in March, the non-profit Whaleback Mountain, N.H., is extending its season to April 1, offering $11 lift tickets on closing day and special events including an Easter egg hunt.
Just to the north, the snow was perfectly timed in the Eastern Townships of Quebec, said Quebec Ski Areas Association president Yves Juneau. "Thankfully, the snow came right in time for the Quebec school breaks in early March all across the province," he said. With more than 75 cm (nearly 30 inches) of snow in the first two weeks of March, "ski areas ended up being really busy, and they caught up the lost business of the holidays," he said. Most ski areas will remain open through April 15, with some considering staying open later if conditions allow.
The snow extended the seasons for all of The Fairbank Group resorts. Bromley, Vt., with six feet of snow in March, will stay open daily through April 1, and then reopen for a final weekend April 6-8. Jiminy Peak, Mass., will stay open daily through April 8. Cranmore, N.H., will keep lifts spinning through April 1 after getting 30 percent of its total snow on the season in March.
Hunter Mountain, N.Y., got 33 inches from the first storm alone, which knocked out power to the region for 30 hours, including much of a Saturday. When power returned at 2:30 p.m. that day, skiers and riders flocked to the ticket windows and the resort kept lifts spinning until 5:30 p.m. The next day, Hunter had its busiest day of the entire season.
Nearby Windham Mountain got three feet from that storm, but did not lose power. Communications manager Becky Pine said, "We had an early crowd that was anxious to ski the powder and traffic was backed up for a few miles. For the first time in our 58 years of business, we ran out of parking and unfortunately had to turn guests away." When Hunter finally was able to open, Windham shared the news on its own social media channels. "We were very happy to hear that Hunter had electricity restored, and was able to accommodate some of the visitors we couldn't," said Pine.
After 10 inches of rain and record high temperatures starting MLK weekend, Mountain Creek, N.J., almost had to call it a season, according to the resort's marketing and sales VP Hugh Reynolds. "We were just barely patching it together," said Reynolds. "The resort team met during the last week of February and we thought we were looking at our final weekend of operations coming up." A week later, 12 inches of snow put the resort back in business, and three more storms in the next two weeks totaled more than four feet for the month. "We now plan to operate into early April. Visitation has been way above what we typically expect this time year. The snow has saved our season," he said.
Jack Frost, Pa., got three feet of snow, and will remain open through April 1 as a result, its latest closing date ever. Bear Creek, Pa., had called it a season before the change in weather changed its plans. On March 16, with a storm on its doorstep, the resort decided to reopen March 22-25 with $25 lift tickets.
In the West
After waiting patiently for the skies to open up for much of the winter, many areas in the Rockies and Far West finally got what they'd been hoping for—prolific snowfall.
In Utah, several well-timed storms have made for terrific conditions for the traditionally busy spring break periods. Lodging at Snowbird had been selling out on weekends earlier in the month. And while most resorts in the state have fixed closing dates regardless of the conditions, Ski Utah's Paul Marshall said the recent snow will be great for business until those closing dates.
In Idaho, Schweitzer will be open a week later than normal, with a closing date now set for April 15. Marketing manager Dig Chrismer said the resort has a variety of events planned leading up to closing day, such as pond skimming and cardboard box derby. "Closing weekend, we try to celebrate our passholders and just enjoy the spring skiing. It's going to be a slow melt off this year!" said Chrismer.
In California, March snow has been a huge benefit to more than just the ski areas. The snowpack in the Tahoe Basin was around 28 percent of the median water content on March 1, according to a recent report in the Tahoe Daily Tribune. After a string of major storms, that figure jumped to 63 percent of the median as of March 20, and more snow has fallen since.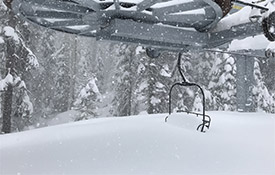 Sierra-at-Tahoe
In fact, more than 17 feet of snow has fallen at Sierra-at-Tahoe in March, after the resort received less than 100 inches total through February. Communications manager Thea Hardy said as the snow totals picked up, so did the resort's skier visits. The resort typically closes mid- to late-April, but has yet to announce a closing date. Hardy said it depends on the longevity of the current snowpack.
Homewood in Cali is extending its season through April 15 after "one of the snowiest months of March in decades," the resort said.
Reported closing dates for other Tahoe-area resorts include: Kirkwood, April 8; Heavenly, April 22; and Northstar, April 15.
Arizona Snowbowl's season total as of March 29 was 99 inches of snow, but combined with its snowmaking production, base depths are deep enough for the resort to extend its season. The resort plans to operate daily through April 1, and then every Thursday–Sunday through April 29. Snowbowl is offering a limited number of $29 lift tickets online.
That's the news we've seen. We surely missed similar stories from other areas. If yours is one of them, please post your news in the comments below.