SAM Magazine—Hillsdale, N.Y., April 3, 2018—Catamount Ski Area owners Tom Gilbert and Rich Edwards are seeking an investor, joint venture partner, or new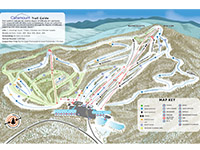 owner/operator for the mountain. The pair has enlisted real estate brokerage firm Mirus Resort Advisors to assist in the search.
The purpose of this initiative is to seek capital sources that will help facilitate growth and improvements at Catamount in order for it to remain competitive. Mirus Resort Advisors said the owners are open to a number of different scenarios, including a partnership, joint venture, or an outright sale of the operations at Catamount, depending on the market.
Catamount has operated continuously since 1939, and has been under its present ownership since 1973. It is a year-round operation, with skiing/riding in winter and an expansive aerial adventure park in summer. The mountain straddles the Massachusetts–New York border. It's one of four ski areas in the U.S. to function in two states.