SAM Magazine—Boone, N.C., April 11, 2018—D. Grady Moretz Jr., one of the co-founders of Appalachian Ski Mountain in Blowing Rock, N.C., died on April 8, 2018 at the age of 88.
Moretz and four other partners purchased Appalachian Ski Mountain in December 1968. The resort remains in the family—his son Brad currently serves as general manager.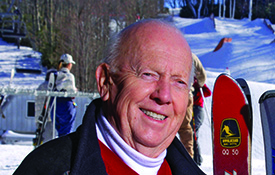 He was an organizing member of the North Carolina Ski Areas Association and served first as vice president and then president from 1977 to 1981. He was also president of the Southeast Ski Areas Association. Moretz chaired the committee that lobbied for the North Carolina Skier Safety Act legislation, which was enacted in 1981.
"Grady Moretz was a powerful contributor to the ski industry and especially the High County," said Talia Freeman, spokesperson for Beech Mountain Resort. "We are saddened to learn of his passing but are forever grateful for his leadership and kind demeanor. His impact on the ski industry will be long lasting. Our thoughts and prayers are with the Moretz family at this time."
Moretz was honored with Lifetime Achievement Awards from the National Ski Areas Association (2005), and the North Carolina Ski Areas Association (2015).