Snow People is where we highlight recent happenings to prominent people in the mountain resort industry.
But first...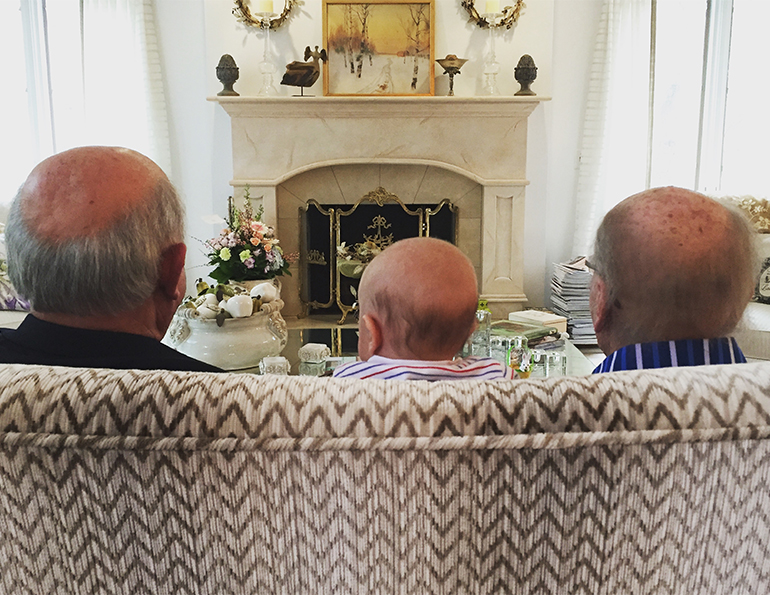 A clear succession (L to R): Bristol Mountain owner Dan Fuller, future snowmaker Wyatt Ratnik (son of Monika Ratnik), and Ron Ratnik of Ratnik Industries
Darcy Lambert, Sunday River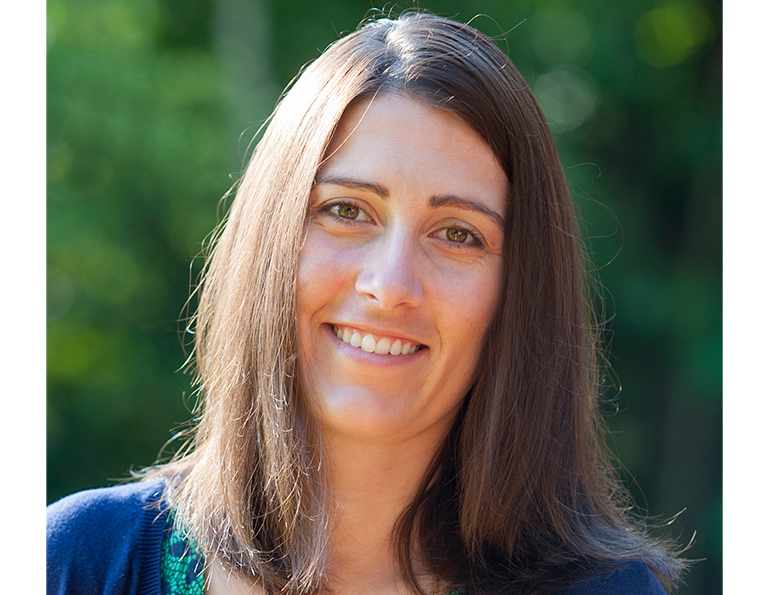 Longtime Sunday River communications director Darcy Lambert has been promoted to vice president of skier services. In her new position, she oversees season pass/ticketing, and will take over retail—including the Mountain Grocer and Sign Shop—in July. Lambert has managed PR and communications for Sunday River since 2012, and worked at Winter Park Resort, Colo., in a similar role before that.
Tobias Rimkus, The Peaks Resort and Spa, Telluride Ski Resort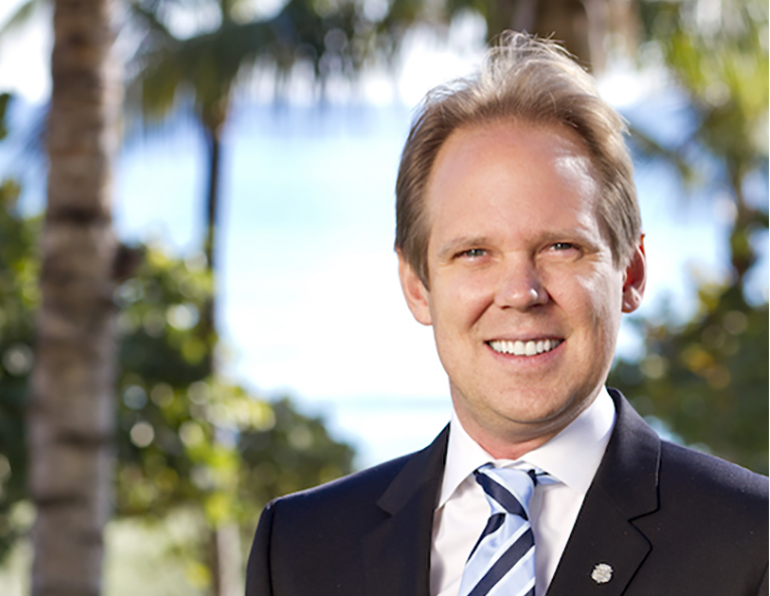 Telluride has hired Tobias Rimkus as the new assistant general manager of The Peaks Resort & Spa, a ski-in/ski-out and golf-in/golf-out full service lodging property at the mountain. Most recently, Rimkus spent seven years working at the St. Regis in Aspen. There, he worked with the Aspen community on a variety of sales activities, namely promoting the resort as a premier wedding destination, as well as the popular Food & Wine Classic.
"[Tobias'] proven leadership abilities, coupled with advanced experience in the hotel industry, will make him a dynamic component of our team," said Rudy Sharp, VP of hospitality at Telluride Ski & Golf Resort.
Alec Tandara-Kuhns, U.S. Collegiate Ski and Snowboard Association (USCSA)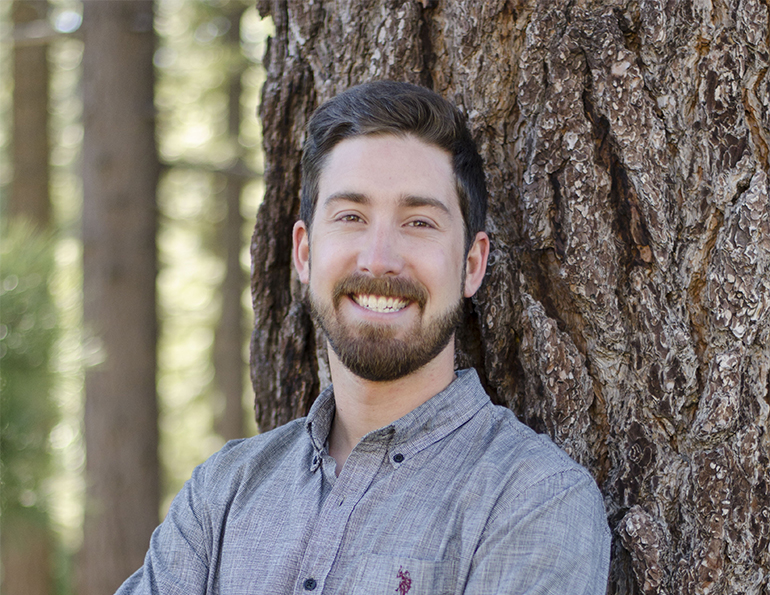 USCSA has hired Alec Tandara-Kuhns as its new executive director. Most recently, Tandara-Kuhns worked at Homewood Resort, Calif., in Resort Programming and Sales. He is a graduate of the University of Massachusetts-Amherst (UMass), where he was president of the UMass Ski 'n' Board Club. After graduation, he worked in group sales at Mount Snow, Vt., and then for experiential tourism company Real Journeys in Queenstown, New Zealand.
The USCSA is the sports federation for collegiate team ski racing and snowboarding in America. The organization includes 170 colleges, fielding 5,000 male and female, alpine, freestyle, cross-country, snowboarding and Nordic ski jumping athletes with more than 300 events annually.
Tom Kelly, U.S. Ski and Snowboard (USSA)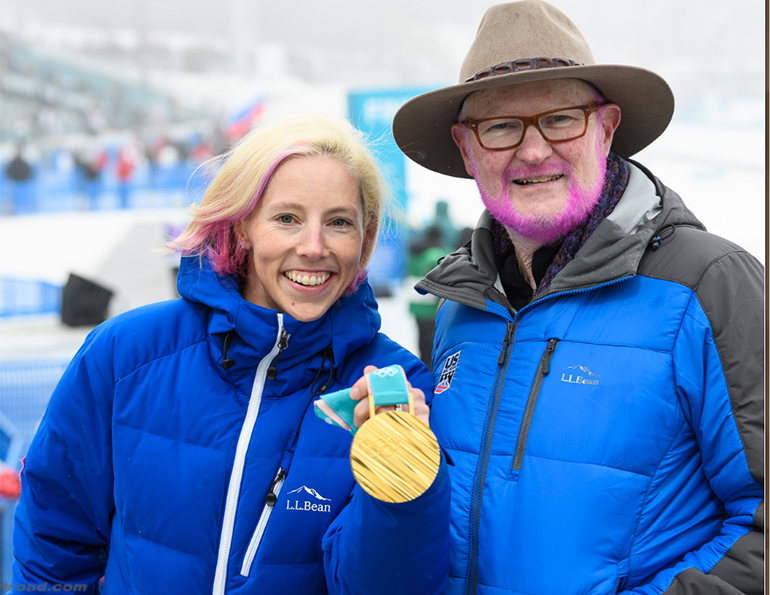 After 32 years with the organization, Tom Kelly has retired as USSA vice president of communications.
Kelly's first job with the organization was in 1986 as the assistant national Nordic director for what was then called the U.S. Ski Association. After its merger with the U.S. Ski Team, and the resulting move from the association's headquarters in Colorado Springs, Colo., to Park City, Kelly transitioned to public relations director in 1988.
He will start Tom Kelly Communications LLC, a public relations consulting agency targeting smaller national sports, such as biathlon, and large clubs.
Ski NH Awards
At its annual meeting in June, Ski NH recognized a few individuals with awards:
Lifetime Achievement Award: Bebe Wood, Ragged Mountain Resort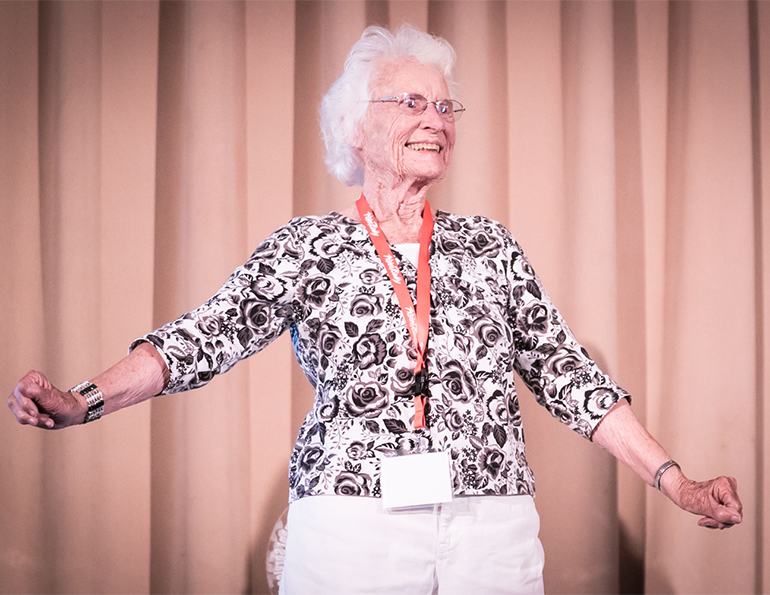 Photo: Dave Gibson, Propeller Mediaworks
Wood and her siblings taught themselves to ski at a golf course near their home in Marblehead, Mass., in the 1930s, before traveling to Cranmore, N.H., on family vacations. She eventually moved to Sun Valley, Idaho, and became a pioneer of the ski bum culture. In the early '60s, she and her husband moved to Bristol, N.H., and in 1965, she was made the director of the junior program at Ragged when it first opened. Wood also served as the head of the courtesy patrol until her retirement, and continues to be a mountain host on the weekends. The Bebe Wood Free Learn to Ski and Ride Program at Ragged is named in her honor, and has introduced nearly 2,000 people to the sport of skiing since its inception just two years ago.
Upon receiving her award, Wood had just one thing to say: "Everyone in New Hampshire should learn to ski."
H.H. "Bill" Whitney Award: Selden Hannah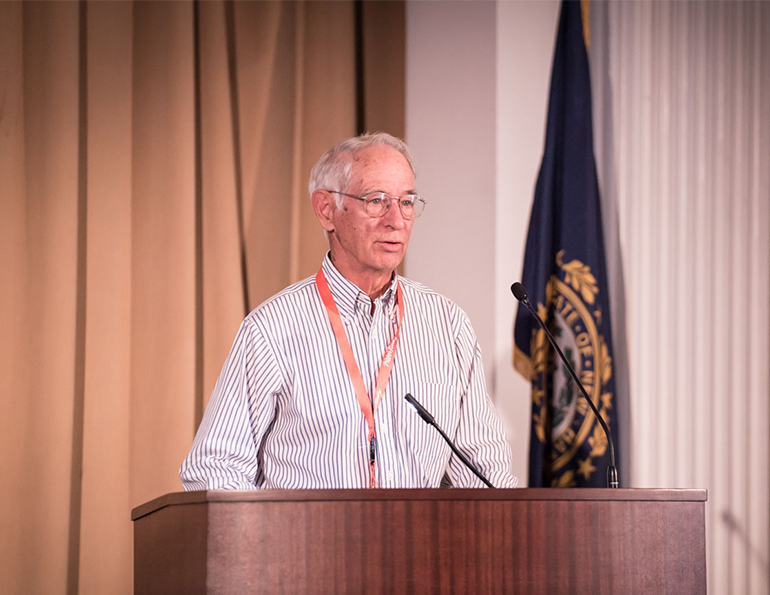 Photo credit: Dave Gibson, Propeller Mediaworks
The H.H. "Bill" Whitney Award recognizes an individual who has made an outstanding contribution to the ski and snowboard industry in New Hampshire. The 2018 recipient is Selden Hannah. Hannah has been on the frontline of ski lift safety for more than 45 years. After an 11-year stint as the head of the Mountain Engineering Division of Dufresne Henry, Inc., he joined Willis of New Hampshire as the VP of engineering. He has served as the chairman of the full ANSI B77.1 committee, chairman of the fixed grip subcommittee, and remains an active member today. Hannah has been an appointed member of the New Hampshire Aerial Tramway Safety Board for more than 25 years, and currently serves as chairman.
Al Merrill Award: Jim Rodrigues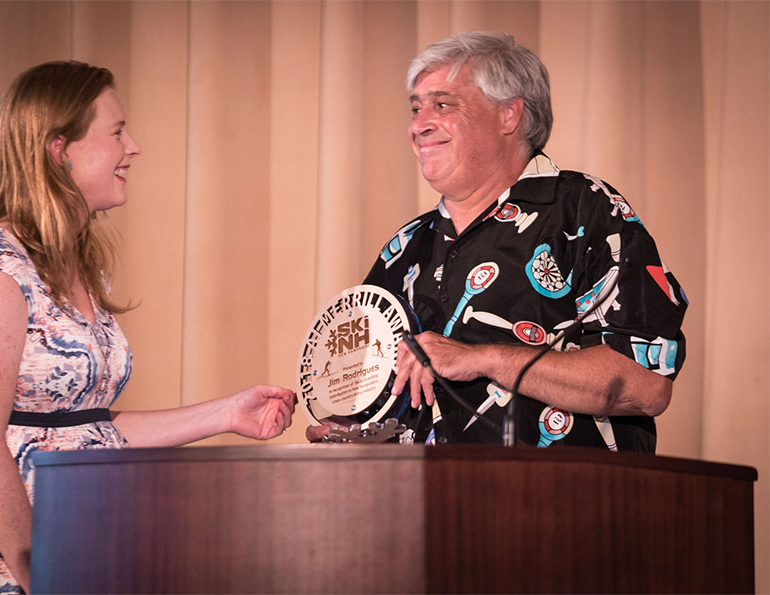 Photo credit: Dave Gibson, Propeller Mediaworks
The Al Merrill Award recognizes an individual who has made an outstanding contribution to cross-country skiing in New Hampshire. This year's recipient is Jim Rodrigues. From 1985 to 1992, Rodrigues was the cross-country ski director for Temple Mountain. Starting in 1989, he coached the Milford High School Nordic team to five state championships, and also became a FIS technical delegate, officiating 136 USSA and FIS races to date. Rodrigues served as the event director of the New England Nordic Ski Association (NENSA) from 2002 through 2014. He is currently the chief of competition at Lake Placid for cross-country events, and the USSA eastern officials coordinator.
Chandler/McLane Government Service Award: Congresswoman Ann McLane Kuster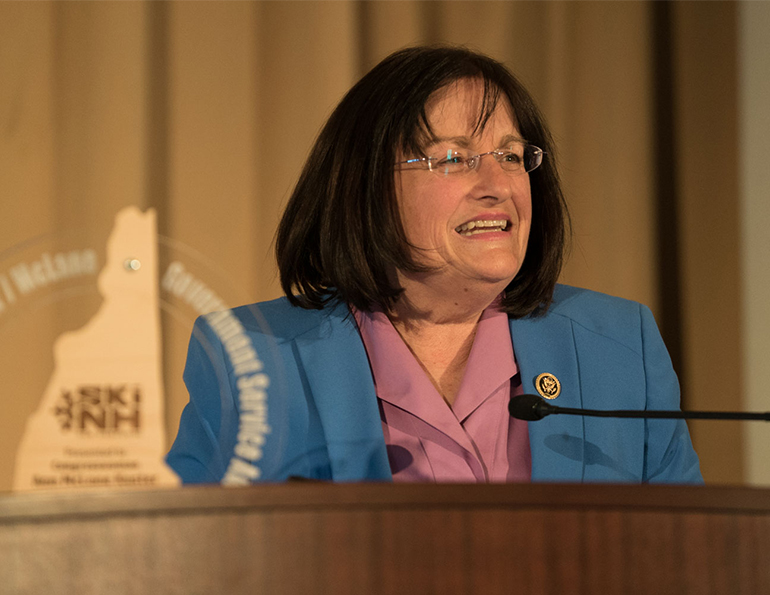 Photo credit: Dave Gibson, Propeller Mediaworks
The Chandler/McLane Government Service Award recognizes a member of the New Hampshire Legislature who has been a key player on issues that are important to the ski industry and to tourism in general, among other considerations.
This year's recipient is Congresswoman Ann McLane Kuster. She grew up skiing at Wildcat Mountain and then went on to race for Dartmouth College. Now in her third term in Congress, she has re-established the Ski and Snowboard Caucus to bring recognition to the ski industry's importance across the country. Additionally, Congresswoman Kuster has co-sponsored the "Ski Fee Retention Act of 2018," which will allow regional offices of the U.S. Forest Service to retain a percentage of fees paid by ski areas operating on Forest Service lands.
Ski Vermont Awards
At its annual meeting, the Vermont Ski Areas Association honored a few individuals with awards:
Industry Achievement Award: Peter Mackey, Middlebury College Snow Bowl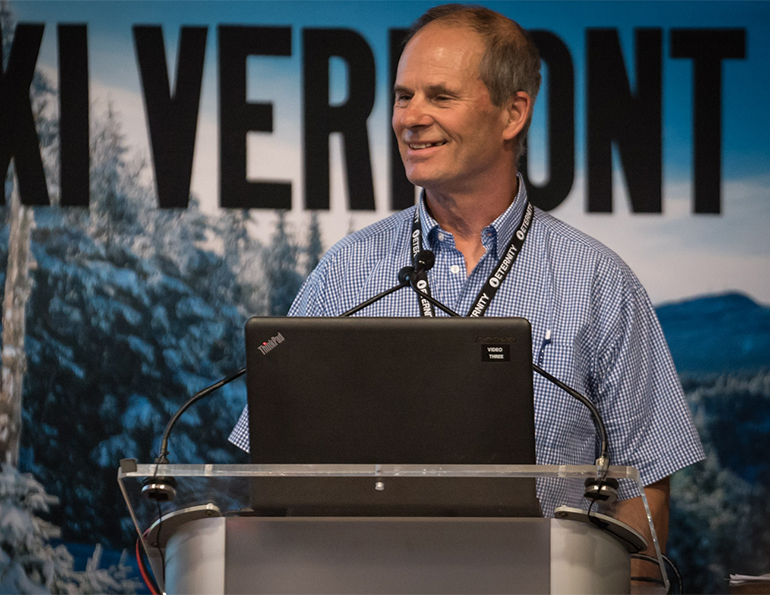 Photo credit: Dave Gibson, Propeller Mediaworks
After growing up in Middlebury and attending Middlebury College, Mackey started working at the Middlebury College Snow Bowl in 1978, becoming the general manager in 1995. He has been very involved in racing, creating one of the best training and race venues in the country. Peter is celebrated for his tireless work ethic and willingness to do any job on the mountain to provide a great experience for all visitors.
Industry Achievement Award: Tim & Diane Mueller, owners of Okemo Mountain Resort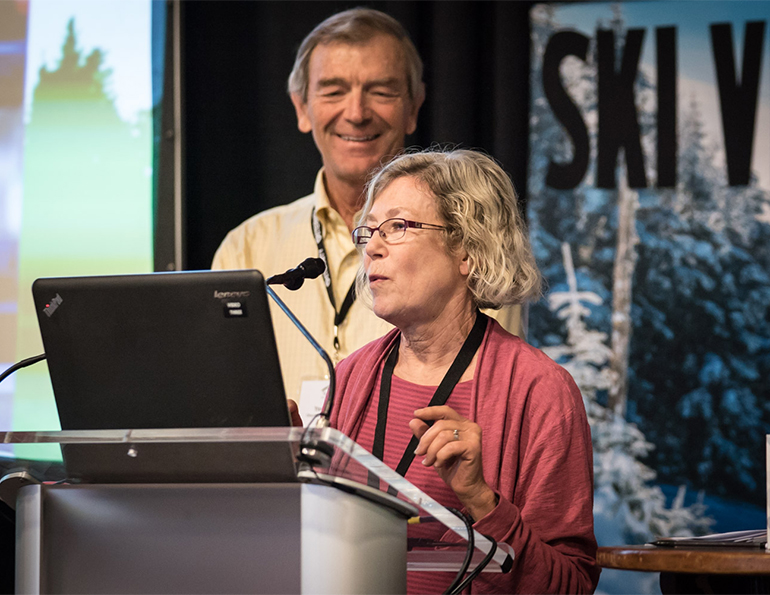 Photo credit: Dave Gibson, Propeller Mediaworks
The Muellers began their ski industry careers in 1982 when they purchased a controlling interest in the community-owned Ludlow Ski Area, now Okemo, and spent more than three decades growing the resort to what it is now. During that time, they added New Hampshire's Mount Sunapee and Colorado's Crested Butte Mountain Resort to form their company, Triple Peaks. The Muellers have been active participants in many organizations and boards in their local community and statewide.
Career Employee Awards recognize staff members who have served their respective ski areas for more than 25 years. This year's class includes: Peg Doheny from Jay Peak Resort; Jane Bird, Vern Haskins, and Vic Monte from Killington Resort; Rick Hanson from Middlebury College Snow Bowl; Bill Champion, Bob Brandt, Bill Herbert, and Rick Doyle from Okemo Mountain Resort; Dave Sills from Smugglers' Notch Resort; Tim Massucco and Pam Frothingham from Stratton Mountain Resort; and Lee Levesque from Sugarbush Resort.
"It's this type of dedication and doing their best for our guests, no matter their particular job, which goes into making a great Vermont ski experience," commented Ski Vermont president Molly Mahar.