SAM Magazine—Flagstaff, Ariz., June 25, 2018—The threat of wildfires in the west has prompted the U.S. Forest Service to close access to several areas of public lands, including access to some businesses that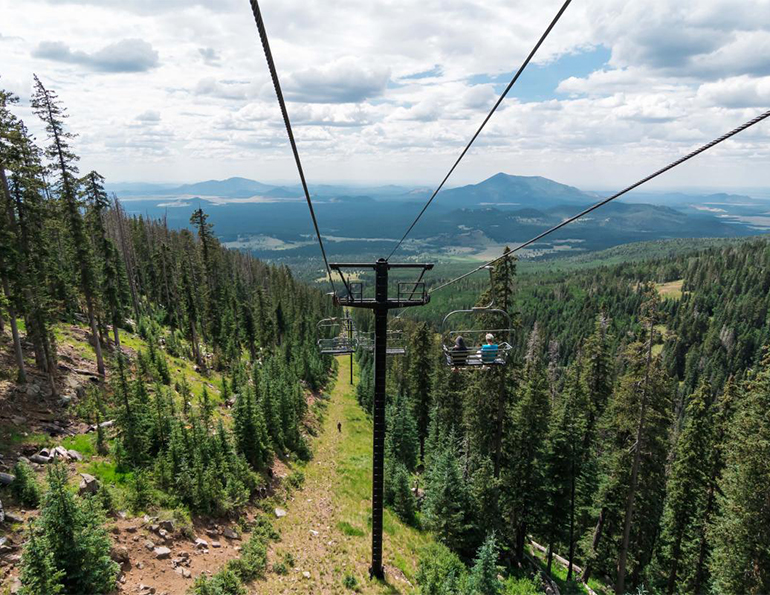 operate through permits in public lands. This includes Arizona Snowbowl, which was ordered to close summer operations a few days before Memorial Day weekend due to concerns over the risk of wildfires. Despite no active fires threatening the resort area or the access to it, Snowbowl remains closed, and a group of lawmakers from Southwestern states want the Forest Service to explain why, or allow the resort to reopen immediately.
The group sent a letter to interim chief of the USDA Vicki Christiansen demanding answers for why Snowbowl remains closed. "The closure has languished for nearly a month now, forcing significant layoffs, costing businesses hundreds of thousands of dollars and wreaking havoc on the local economy," the letter states.
Snowbowl offers scenic chairlift rides and family activities during the summer months. About 50 seasonal employees who staff those activities have been out of work.
During a meeting between Snowbowl operator Mountain Capital Partners and USFS representatives, the USFS reportedly said the reason for the ongoing closure is the concern that if a fire were to start along Highway 180 or below the ski area, then the fire could spread to the resort and overwhelm its emergency and evacuation procedures.
In their letter, lawmakers point out that Arizona Snowbowl is approximately six miles from the road, and more than 3,000 feet higher in elevation than the road itself, "in one of the wettest areas of the State of Arizona." The letter argues that other ski areas on USFS land that are in similar wildfire prone areas "routinely stay open even as large, active forest fires rage nearby," and call on the USFS to explain why it "has taken the unprecedented action of abruptly closing the ski area for reason of a hypothetical rather than actual threat—and with only minimal notice and no consultation provided to resort operators."
A handful of weddings scheduled at the resort are allowed to take place on the outdoor deck and inside the ski lodge, according to Snowbowl general manager J.R. Murray. The resort has an exemption to do pre-monsoon drainage work and erosion control on the slopes. Snowbowl administrative staff have an exemption as well, so they are the only ones allowed to go up Snowbowl Road, Murray said.
"The bottom line is other than a couple dozen employees no one is going up there," he said.