SAM Magazine—Government Camp, Ore., July 11, 2018—R.L.K. and Company, operator of Timberline Lodge and Ski Area, has purchased Summit Ski Area in Government Camp, Ore., which is located on Mt. Hood less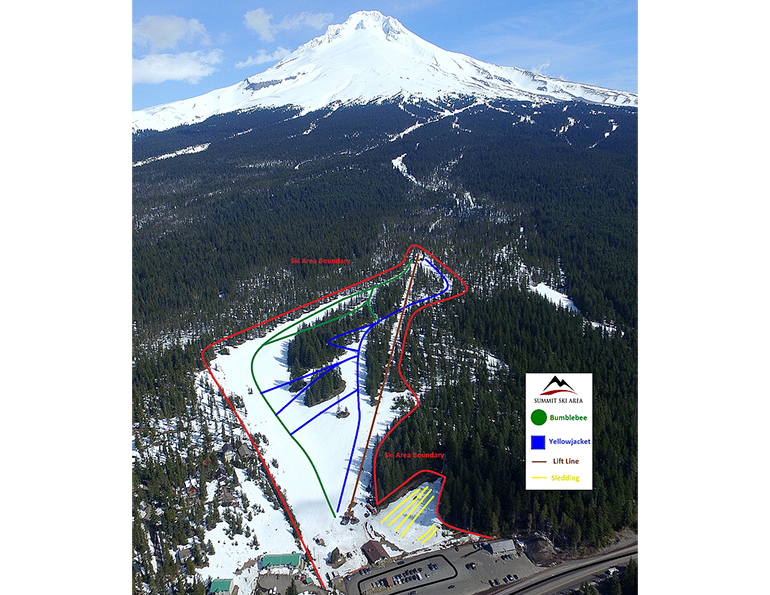 than six miles from Timberline. Included in the sale is Snow Bunny, a snow play area and parking lot, approximately 1.5 miles east of Government Camp. Both Summit Ski Area and Snow Bunny will operate under a special use permit issued by the Mount Hood National Forest.
Established in 1927, Summit Ski Area is the second-oldest continuously operating ski area in the United States and the oldest ski area in the Pacific Northwest. In 1959, a T-bar was installed and in 1966 the present lodge was constructed. In 1980, the current 2,300-foot-long chairlift was built, providing access to approximately 3.5 miles of trails. Summit's base elevation is approximately 4,400 ft.
Timberline president and area operator Jeff Kohnstamm said, "We are very pleased with the acquisition and plan to operate Summit Ski Area as a family-oriented, affordable, friendly mountain resort." Kohnstamm sees Summit as a place to "break down the barriers to skiing and snowboarding surrounding accessibility and affordability."
With Portland's population growing rapidly and more people visiting Mt. Hood, Timberline also views Summit Ski Area as an opportunity to help address public transportation and parking needs while having a greater connectivity to Government Camp.
In the short term, R.L.K. and Company will update Summit's brand and website. Summit will operate under its current footprint with ski and snowboard rentals, lessons, and snow tubing. The new owners plan to expand the food and beverage offerings and perform some basic lodge upgrades ahead of the upcoming ski season.
For the long term, R.L.K. will explore the possibility of expanded product offerings for both summer and winter at Summit. "We look forward to an open-minded approach and discussing opportunities with the community," said Kohnstamm, "We will provide quality recreation within the capabilities of the ecosystem. It will be exciting to see what the future holds for Summit, Timberline, Government Camp and all who visit."