SAM Magazine— Sheridan, Wyo., Oct. 18, 2018—In 2004, a family dispute forced Fun Valley Inc. to shut down the slopes at Antelope Butte ski area. Fourteen years later, Antelope Butte's lifts will spin again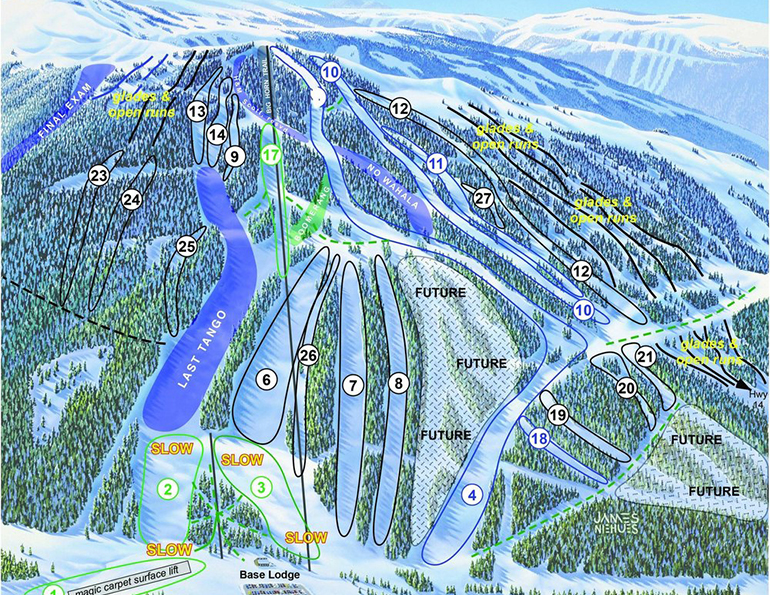 thanks to the hard work of a community coalition, the Antelope Butte Foundation.
The foundation has been working since 2011 to reopen Antelope Butte as a non-profit. Its grassroots effort paid off in 2016 when the USFS granted the foundation permission to renovate the historic base lodge and the two Riblet chairlifts that had sat dormant since 2004.
The foundation has raised approximately $2 million of its $4 million fundraising goal. That money has allowed for the purchase of new groomers, the refurbishment of both lifts and the beginning of the 11,400-square-foot lodge renovations, which are still in progress. An $185,600 BRC Community Development Enhancement grant from the State Loan and Investment board has also allowed the Foundation to install a brand new surface lift.
Though the lodge will not be open for winter 2018-19, the lifts will run. According to its Instagram page, Antelope Butte will perform the last of the electrical work and begin load testing the double chair that serves the bulk of the mountain in the next two weeks. The ski area also has a community "Chairlift Work Weekend" scheduled for Saturday, Oct. 20, where it is asking for volunteers to come help finish the lift shacks and frame the garage before winter weather sets in.
While an official opening day has not been set, as Antelope Butte lacks snowmaking and relies on natural snow. With a base elevation of 8,400 feet, its 225 skiable acres get annual snowfall of around 200 inches.
The foundation intends for Antelope Butte to be a year-round recreation area for the local community. The area already hosts popular annual events such as the Big Horn Mountains Brewfest and a summer festival, and the foundation has plans to develop activities like mountain biking, hiking, and disc golf on Antelope Butte's 500 permitted recreation acres.
Ed. Note
In the increasingly corporate snowsports industry, in which companies with significant capital are buying up and developing areas big and small, local, independent hills still have a pivotal role to play in the growth and success of our sport. If you don't already love the sport, it can be extremely cost prohibitive to take it up. We need new lifelong skiers and riders and a lower-cost entry point.
This is where the mom-and-pops and non-profits often come in. The Antelope Butte Foundation came together to rescue a beloved but abandoned hill and, in doing so, provide an accessible year-round recreation for the local community (along with out-of-towners passing by on the route from Yellowstone to Mount Rushmore).
It's reasonable to imagine that families that haven't hit the slopes since Antelope Butte shut down in 2004 may be inspired to get out on the mountain again. And once they've got the bug, well, who knows? Maybe their next family vacation will take them to your resort. —Katie Brinton