SAM Magazine—Ludlow, Vt., Nov. 30, 2018—While November brought early openings and record snow coverage to large parts of North America, it also ushered in several notable events in Europe: Winter arrived in the Alps, and key resorts have started spinning lifts; the highest gondola in Europe was installed with eco-friendly bona fides; and Cairngorm, Scotland, invested in a serious snowmaking upgrade.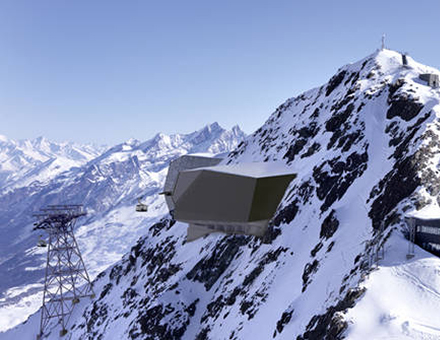 Based on reports by Patrick Thorne, aka The Snow Hunter.
Snowfall Returns to the Alps
It's snowing again in the Alps as more ski areas open or prepare to open for the 2018-19 season.
Austrian resorts are seeing the most accumulation so far, and some resorts in Italy and Switzerland are also reporting fresh snow. Adelboden, Madesimo, Glacier 3000, Obertauern and Schladming have all received 6-12 inches in the past few days.
The main news in Europe this weekend was that two big-name ski areas—Ischgl and Val Thorens—opened for the season. Spain's Sierra Nevada also caused a surprise when it opened a week earlier than expected. And Breuil-Cervinia—Zermatt's "Matterhorn Paradise," a cross-border Italian-Swiss ski area—stole the show with more than 100 miles of open ski runs, the largest amount in the world to date.
The forecast is calling for heavy snow over the weekend. Some areas in France and Switzerland could see up to 20 inches of fresh snow by Monday, Dec. 2.
Europe's Highest 3S Gondola Incorporates Solar Power Plant
The new 3S gondola that transports visitors up to the Klein Matterhorn above Zermatt, Switzerland, has some strong green credentials. The new lift, which will run alongside an existing cable car, won attention for its cabins with glass floors or encrusted with Swarovski crystals. But it is also environmentally friendly: The south and west walls of its valley station are covered in solar panels.
"The Valley Station for the new lift is perfectly suited to a photovoltaic system with both location and available surfaces ideal for the installation," said Stefan Aufdenblatten, CEO of Elektrizitätswerk Zermatt AG (EWZ). Still, he noted, "The PV modules had to be carefully selected to account for the alpine weather conditions at almost 10,000 feet above sea level, which also required the installation of a number of steel supports to combat high winds. The energy-generating modules are slightly thicker than the conventional types in order to withstand the effects of the weather, such as ice formation and hail."
There are 485 modules in total, covering 2,877 square feet. They will generate 157,000 kWh of energy a year, equivalent to the power used by about 35 households. It will also save up to 23.4 tons of CO2 per year.
The solar installation is the third at the resort. Since April 2000, the south face of the Matterhorn Glacier Paradise restaurant has supported 108 solar modules that generate 35,000 kWh a year. And another lift terminal/mountain station with solar panels generate 20,000 kWh annually.
The 3S gondola has been operating daily since Nov. 1. It took three years to build, because of the short 100-day construction weather windows that are typical at the Klein Matterhorn's high altitude (12,500 feet).
Double Decker Snowfactory Part of $1.3 million Cairngorm Snowmaking Investment
Cairngorm Ski Area, above Aviemore in the Scottish Highlands, is spending the better part of a $1.3 million capital investment in snowmaking on a new Snowfactory all-weather snowmaking unit by TechnoAlpin.
Snowfactory produces snow within a large articulated unit, meaning that snow can be produced regardless of the outside temperature, and is then spread outside. The machine typically covers a limited area and is good for beginner slopes and terrain parks, for example.
Two of the Snowfactory machines were tested at three ski areas in Scotland last winter, with support from Cairngorm owner Highlands and Islands Enterprise (HIE). HIE then helped fund the purchase of machines at The Lecht and Glencoe ski areas.
A new machine arriving at Cairngorm next week is reported to be twice the size of the Glencoe and Lecht systems. It has two articulated units that can be positioned on top of one another.
Report compiled by Katie Brinton