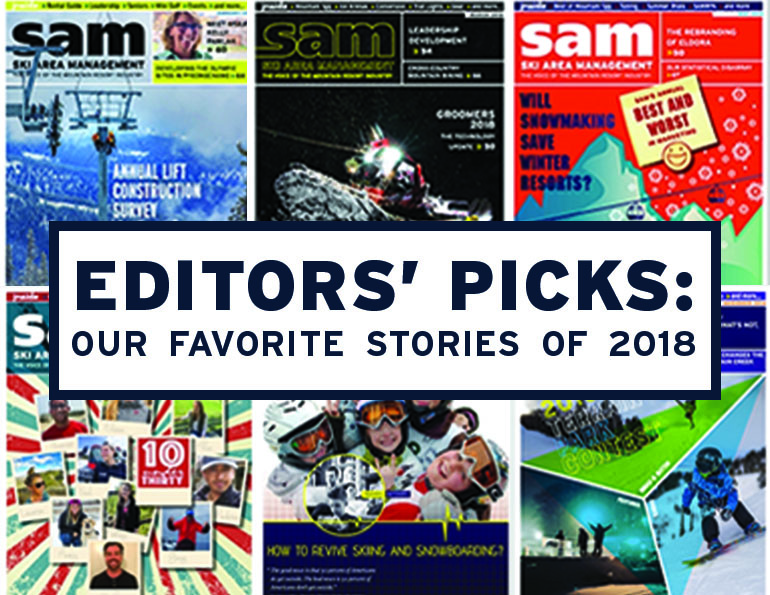 EDITORS' PICKS:
As we charge into 2019, we at SAM took a look back at some of our favorite articles from 2018 and selected a top-10 (OK, top 11) list. The list encompasses some of the most important stories that occupied the industry in the past year:


• welcoming a new president of NSAA
• pursuing market growth
• the survival of small feeder areas against the backdrop of mega pass sales and consolidation
• changes in information technology
• confronting the realities of climate change for our industry
And more. It was a busy year of change, and it doesn't look like change will slow down in 2019. (Share your favorite articles in the comments section below.)
Here are our picks. Carve out a little time to read them and remind yourself of where we've been before thinking about where it is you're going. We have opened up online access to these 10 otherwise subscriber-only articles for the month of January. WARNING: This might also remind you of the value of a subscription to SAM in 2019. If so, you're in luck: We are offering a special NEW YEAR discount for a subscription to SAM. Enter code NEWYEAR when you subscribe or click here to take advantage of this offer.
---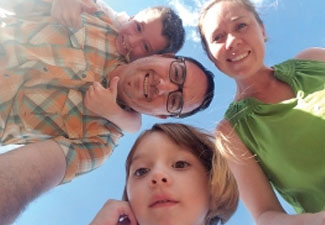 SEPTEMBER 2018
This is a great story about Snowy Range, a small, family-run resort in Wyoming proving you can thrive in this era of mega passes and consolidation with hard work, persistence and ingenuity. It also sparked a follow up idea from our team called #MyFirstMountain. The campaign will rollout this winter (thanks to support from Snow Operating) and will shine the light on community mountains like Snowy Range, and highlight their importance as breeding grounds of future skiers. -Olivia Rowan
---

MAY 2018

This is one of my favorites every year. It's so unique in a variety of different ways. Unlike many awards, contests, polls, etc., Best and Worst is a wholly subjective, genuine, and thoroughly entertaining review of marketing efforts that our group of talented contributors were exposed to during the winter season. The "awards," if you will, are specific to each review, which makes it all the more fun. This year, some of my favorites were "Most Enticing Ad for a Ski Deprived Mom," "Best Use of Locals," "Most Abusive Use of 100% Pure Maple Syrup," and "Best Use of Elves." How fun is that? And our contributors are very constructive in their assessments. Any that fall into "worsts" are reviewed in a way that is meant to help everyone not make the same mistake next time, not to belittle. If there is an especially egregious gaffe, they can be more pointed, which sometimes is necessary. For all of these reasons, and more, Best and Worst in Marketing is definitely one of my favorite articles of the year. -Dave Meeker
---

SEPTEMBER 2018

It's easy to become very narrowly focused on our own resort, or region, or even industry. So it is often useful to get a different and broader perspective. That's what Jason Blevins brings to the conversation about growth. This article explains how Canadian and Australian resorts have approached the challenge, and more broadly, how the outdoor industry in the U.S. is dealing with the same issue. There are plenty of ideas, and allies, to help meet the challenge of growth. -Rick Kahl
---

JANUARY 2018

I had the pleasure of interviewing the incoming NSAA president, Kelly Pawlak, along with SAM's senior editor (also a former employee of Kelly's) Dave Meeker. I had known Kelly through the years and what a strong, smart and very capable person she is. Her nomination into this role was a fantastic move for our industry and on a personal note, an exciting first being that she is a female leader in a male dominated industry. -Olivia Rowan
---

MAY 2018

With every passing day, the impact of climate change becomes clearer. The EPA's largely-overlooked analysis of how rising temperatures will affect the financial health of winter resorts gives resorts a rare gift from the government: a well-researched and in-depth look at the industry's possible futures, depending on how much warming occurs. Robin Smith, who contributed his snowmaking expertise to the study, describes the study's strengths and limitations, and lays out the choices resorts face. Those include both capital planning for snowmaking and advocacy for efforts to minimize climate change. -Rick Kahl
---

NOVEMBER 2018

This Spy Mission stands out from the rest. The question was: "I'm a pretty good skier and would like for my kids to learn this winter. Is it worth putting them in lessons, or should I teach them myself?" A common conundrum of many parents, for sure. But what made this mission special, to start, was that the question was submitted by a reader (Thanks, Tom!). We don't get many questions submitted despite the bimonthly encouragement for readers to do so. (If you're reading this and a guest just asked you a funny question, send it to me: dave@saminfo.com. Don't make me beg.) The other thing that made it special was that all but one of the eight staffers I spoke to killed it—which never happens. This Spy Mission was refreshing. Not only because of how the question was handled, but because none of the folks I spoke to were snowsports school staff. -Dave Meeker
---

NOVEMBER 2018

Technology has bedeviled the winter resort business for well over a decade now. With several different profit centers, dozens of points of sale, and hundreds of price packages, resorts are a nightmare for software programmers. So the effort by Mountain Creek and its ever-inventive CEO, Joe Hession, to both rethink the way resorts deploy software and tackle the programming challenge, is breathtaking. This is the same can-do spirit that launched the industry in the 1950s and '60s, and it has become exceedingly rare. This story shows that younger generations may yet approach the achievement level of the industry's Greatest Generation founders. -Rick Kahl
---

MARCH 2018

I have loved all of the Summit Series installments and have personally learned something from each (if you haven't read the articles or listened to the PodSAM episodes, do it soon). John Rice and Blaise Carrig have seen it all and had some great advice on the topic of problem solving. Two quotes stood out in this piece, one from Blaise in which he noted, "The more difficult the problem, the more present (physically and mentally) I needed to be as a leader—and that has carried forward with me to this day." John Rice passed along wisdom he learned from his mentor Jerry Blann about "the value of the collective intellect was much stronger than any individual with a title or higher position in the company." -Olivia Rowan
---

MAY 2018

Summer business has grown fast over the past decade. Resorts have added a variety of activities and events, and largely evolved away from the 20th-century golf/tennis/conference center model. Still, many resorts hosted a hodge-podge of stuff, not a cohesive package. At Lost Forest, "It was about making a change from looking like a ski area that opens for the summer to looking like a true summer business," says Aspen's Peter Santini. We have labelled this "summer ops 2.0." The aim is to create an on-brand set of adventures and experiences that take full advantage of the mountain environment and give resorts a competitive advantage in the wildly diverse summer marketplace. Snowmass shows the way, but you don't have to be Snowmass to follow the same strategy. -Rick Kahl
---

SEPTEMBER 2018

I was sitting next to Kelly Pawlak at last year's NSAA Western Conference at Snowbird in a session about how to improve your food and beverage NPS scores. Erica Mueller of Crested Butte Mountain Resort was talking about how the CBMR culinary team had progressively improved its NPS scores over the past few years to some of the best in the industry. One of the things she discussed was a series of mid-winter training sessions that staff of all levels were encouraged to attend. I leaned over to Kelly and asked if we ever did anything like that at Mount Snow, and she just laughed. Training is a huge investment, but it comes with huge ROI. All too often, resort staff—especially seasonal staff—are thrown to the wolves with little to no training. What's worse, many of these staffers are front line and have a direct impact on the guest experience. Erica and her family recognized this, and put a lot of time and resources into staff training at their resorts, and we were lucky enough to have Erica share their training recipe in this article. It's a terrific roadmap for any ski area to follow. -Dave Meeker
---

SEPTEMBER 2018

The #MeToo movement signaled a societal shift of enormous proportions. Workplaces all across America reached a tipping point, in which sexual harassment and gender bias are no longer tolerated or accepted. This article helps resort managers and HR leaders in particular come to grips with a tectonic shift in attitudes toward women, as well as toward a variety of gender issues. -Rick Kahl