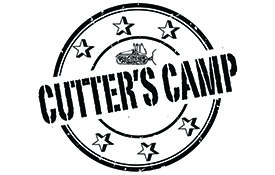 SAM Magazine—Government Camp, Ore., Jan. 29, 2019—Registration is open for the 17th annual Cutter's Camp. This year's event will be held May 13-17, 2019 at Timberline, Mt. Hood, Ore. The five-day spring program for terrain park professionals features on-hill and classroom workshops, including the return of one-on-one on-hill operator coaching, Park Challenge workshops, and in-depth discussions on event ROI, communication, risk management, design, construction, and much more. Space will be filled on a first come, first served basis.

In addition, Prinoth and PistenBully will have their latest grooming machines as well as snow and fleet management systems for participants to demo during camp.

New this year, Cutter's Camp has partnered with Pro Academy to offer a facilitated training module to provide campers with knowledge ranging from the technical functions and controls of a snow groomer to correct operation and the basics of snow grooming. Campers who elect to participate in this arrival-day session will receive a Pro Academy certificate following completion of the course. They will also take home a discount code for operators at their home resorts to participate in the Pro Academy online training modules. This training session will be conducted by a certified Pro Academy trainer and is only available at Cutter's Camp.

Sessions at Cutter's Camp include:

· Risk management
· Financial planning
· Hosting successful events and contests
· Design and construction of snow- and man-made features
· Pre- and post-loss risk management strategies
· Social media and parks
· Snow science
· NSAA Freestyle Terrain Resource Guide practicum
· Strategies for increasing participation
· Measuring ROI
· Progression
· Machine operation and maintenance
· Staff and guest education

…and much, much more.

"Cutter's Camp has grown into the premier educational gathering for all freestyle terrain professionals to share industry best practices on park safety, risk management, design, construction, machinery, marketing, events, operations, and management," said SAM publisher Olivia Rowan. "Timberline is the perfect partner given their reputation for building world-class freestyle terrain and a one-of-a-kind location."

As one 2018 camper put it: "This has been the best thing I have ever done to better my park. Really looking forward to applying everything I have learned."

Visit www.cutterscamp.com for details and registration information. Registration packages are all-inclusive of lodging, meals, classroom sessions, on-hill building workshops, machine demos, airport transfers, drink tickets, welcome bag, and networking activities.

Cutter's Camp is produced by Ski Area Management (SAM) magazine.