SAM Magazine—Gatlinburg, Tenn., Feb. 15, 2019—The 10th annual SAM Summer Ops Camp is headed to Gatlinburg, Tenn., Sept. 3-5, 2019. Gatlinburg is a major summer destination and serves as the gateway community to Great Smoky Mountains National Park, the most visited national park in the United States. Gatlinburg and surrounding towns welcome about 13 million visitors each year to enjoy a variety of activities and attractions, with annual average sales of $3.4 billion.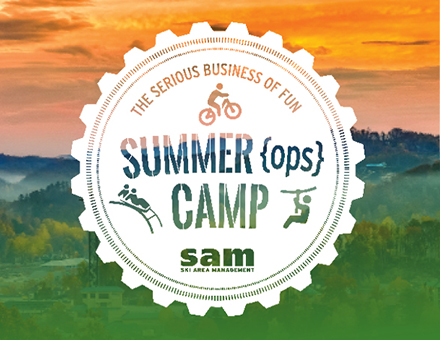 Attendees will experience famous Southern hospitality and the very latest summer activities and attractions in a setting referred to as "a magical mountain experience." Resort operators will see how this fast-growing, highly successful mountain town caters to a multi-generational crowd with a mix of world-class theme parks, seven mountain coasters, the latest zip coaster rides, canopy walks, canopy zip-line tours, the longest suspension bridge in the U.S., live entertainment, hiking, biking, camping, and yes, skiing.
"Operators will get a rare behind-the-scenes look at what makes the businesses in this high-traffic, high-sales area so successful," said SAM publisher Olivia Rowan. "We will visit and talk with operators about retail, attraction mix, marketing, pricing, safety, staffing, latest products and technologies, demographics, and much more. Gatlinburg is an eye-opening experience and a must-see for any mountain resort operator who is in, or getting into, the summer business."
Summer Ops Camp is three days chock-full of hands-on experiences, educational sessions, networking events, and product demonstrations. The event gathers mountain resort personnel from across North America and around the world to explore opportunities in four-season attractions and revenue growth. The format ensures a constant stream of insights from experts, manufacturers, colleagues, and personal experience.
Planned stops on the agenda, and for pre- and post-camp visits as well:
Ober Gatlinburg, Tennessee's only ski area has a tram that averages 2,000-2,500 visitors a day.
Boyne Resorts' SkyLift and mountaintop SkyPark, including the new SkyBridge—the longest suspension bridge in the U.S.—and canopy walk.
Anakeesta, a groundbreaking, multi-feature destination described as "a unique outdoor family experience that immerses guests of all ages in the beauty and adventure of the great outdoors."
Mountain coasters. There are seven coasters in a five mile radius, and each offers a unique experience, day and night.
Zip Coasters. This brand-new technology takes the zip line ride to the next level with dips and curves. We will check out two different installations.
Retail & F&B. Retail and F&B are major draws for Gatlinburg's summer visitors. From moonshine distilleries and wineries to specialty Southern food, we will experience what Gatlinburg has to offer.
Theming and storytelling. Gatlinburg and next-door Pigeon Forge are loaded with tourist attractions, all with their own theme and story. Operators will learn how to draw in the drive-by and destination customer.
Ebikes. This trend in two-wheel transport is exploding. Attendees will demo and learn more about them.
Mountain Biking. Climb Works, a highly regarded canopy tour and mountain biking facility has custom flow trails on tap.
Hiking.The region's 800 miles of hiking trails and hundreds of miles of streams attract outdoorsmen and nature enthusiasts from all over the country.
Registration opens this spring and space will be limited due to the many tours on the agenda and to guarantee of a hands-on, high quality experience. Some details are now available at www.summeropscamp.com. The full agenda will be available and registration will open in April.