SAM Magazine—Denver, March 5, 2019—Alterra Mountain Company's Ikon Pass and Vail Resorts' Epic Pass are both offering new products, payment plans, and benefits for the 2019-20 season. Both passes went on sale today.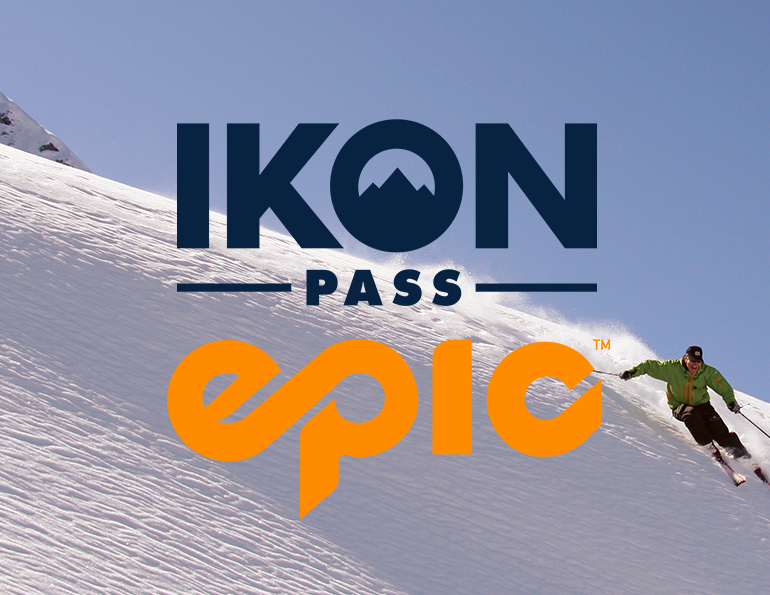 Epic Pass
The full 2019-20 Epic Pass is $939, the Epic Local is $699, and the Military Pass options are $129 for active and retired military and their dependents, and $529 for veteran military and their dependents.
Anyone buying an Epic or Epic Local pass this spring can put $49 down and get 10 discounted Buddy Tickets—up from six last year—and six Ski With a Friend Tickets. The balance is due in September.
The most notable addition to the Epic Pass lineup is the introduction of "Epic for Everyone," headlined by the new Epic Day Pass, which is an advance-purchase product allowing customers the choice of including one to seven days of access to any of the company's North American resorts at a discount from the window price. It starts at $106 for one day with holiday restrictions, up to $731 for seven days, unrestricted. That equals up to 50 percent off the window rate. An Epic Day Pass with four or more days can also be used at Epic Pass partner resorts in North America.
Also part of Epic for Everyone, guests who purchase a day lift ticket this season also have the opportunity to apply the value of their ticket toward the price of an eligible 2019-20 pass, including an Epic Day Pass with four or more days.
Vail Resorts reported that 47 percent of lift revenue in fiscal 2018 came from guests using a season pass. Guests using a daily lift ticket skied, on average, an estimated 2.3 days during the season.
"Epic for Everyone provides [non-passholders] and all of our guests the opportunity to participate in season pass discounts, and provides first time and occasional skiers greater access to our resorts, giving us an opportunity to grow the entire industry," said VR chief marketing officer Kirsten Lynch.
Ikon Pass
Going on its second season in existence, the Ikon Pass is already evolving. Pricing for 2019-20 for the full Ikon Pass is $949, and the Ikon Base Pass is $649. And inaugural Ikon passholders will be rewarded if they renew their pass before April 24 with $30 off the early price ($919 and $619, respectively).
A new payment plan is available for the Ikon Pass and Ikon Base Pass if purchased before April 24, with a $199 deposit plus four monthly payments, June – September 2019.
New passholders will be able to use their 2019-20 Ikon passes starting now at Big Bear, Calif., Snowshoe, W.Va., and Blue Mountain, Ont. Beginning April 8, passholders will have unlimited spring skiing access at Winter Park Resort, Colo., Squaw Valley Alpine Meadows and Mammoth Mountain, Calif., Crystal Mountain, Wash., Solitude Mountain Resort, Utah, and Tremblant, QC.
Also new for 2019-20, Ikon passholders can now purchase up to two discounted Child Ikon ($199) or Child Ikon Base ($159) passes for children ages 5-12 with the purchase of an adult Ikon Pass or Ikon Base Pass. Both are $100 off the regular Child Ikon Pass rate, and must be purchased by April 24 to take advantage of this offer.