SAM Magazine—Woodbury, Conn., April 11, 2019—Kicking off in the west this week, an intense spring snowstorm is expected to drop flakes all the way to the Northeast, making the 2018-19 season one that just keeps on giving. And since the snow's not quitting, neither are resorts. Incredible snowpack has led many areas to extend their seasons and their spring event calendars through to the end of April, May, June, and even July.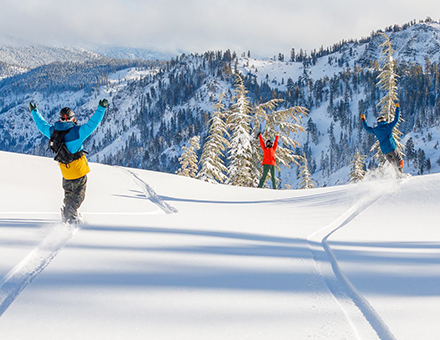 April snow at Squaw, photo by Ben Birk

FAR WEST
In California, record snowfall—enough precipitation as of April 3 for this to be counted as the wettest year on record in the northern Sierras—put an end to the state's historic drought and left skiers and riders overflowing with stoke. So it's no surprise that several resorts are extending their seasons.

Southern California's Snow Valley is making the most of the quality spring conditions. The resort will stay open until Easter, April 21, and is offering guests free skiing by honoring current season passes or unused lift tickets from any ski area in the country. Snow Valley 2019-20 season pass holders will also ski free for the remainder of the current season.

Squaw Valley, which received 685" of snow this year, plans to extend daily operations through May 27, then open Fridays through Sundays until July 7—long enough for some Independence Day weekend sliding. Heavenly expects to remain open through May 27. Mt. Rose Ski Tahoe, which opened to pass holders on Oct. 19, will enjoy another six-month ski season, closing on April 28. Homewood and Diamond Peak both expect to remain open through April 21.

Diamond Peak, on the Nevada side of Lake Tahoe, was originally scheduled to close April 14, but general manager Mike Bandelin extended the season, saying, "We've had big winter storms this year, so the snowpack is in great shape and the spring skiing is going to be really fun."

Oregon's Mt. Bachelor will keep its Sunrise base area open until April 21, and the main West Village base area, which offers access to approximately 2,000 acres, will stay open through its planned May 26 closing. Guests who show up for closing will be treated to the Finale Festival and Pond Skim.

ROCKIES
Four Mountain Capital Partners (MCP) resorts extended their seasons earlier in March. Sipapu in New Mexico added hours and days to its schedule. The resort stayed open until 5 p.m. in mid March and continued seven-day operations until March 24, before switching to a weekend-only schedule until April 7. Pajarito, N.M., expanded its schedule on March 12 to be open everyday until March 24 and kept its Los Alamos ski area open on weekends until April 7.

Purgatory, Colo., extended daily operations through April 7 and has switched over to a weekend schedule until a yet-to-be-determined closing date. And Hesperus, Colo., which was set to close March 17, continued weekend operations until March 31. According to MCP, all four areas enjoyed double-digit skier visitation growth over the last year. "Last year, we all did the best with what we had," said MCP managing partner James Coleman. "But this winter? It's like everyday is a celebration. Guests are loving it."

Other Colorado resorts also took advantage of the enthusiasm. Powderhorn closed March 31, but was able to reopen for a "So Much Pow Luau" encore weekend April 5-7. Buttermilk also hosted a brand new event, a three-day music festival called The Après, to celebrate its closing weekend April 5-7.

While others are shutting down, Breckenridge and Arapahoe Basin are gearing up for long spring seasons. Breck plans to run Peaks 6, 7, and 8 through Memorial Day, with a goal to operate a similarly extended season in the years to come.

And, with a 72-inch base and more guests than its parking lots can handle, A-Basin isn't scheduled to close until June 2. The resort's spring events series, which caters to its dedicated spring clientele, kicked off March 23 with the Beavers Opening Ceremony and Concert, and the area has events lined up until its last Shakin' at the Basin concert on June 2.

Jackson Hole, Wyo., closed April 8 after a record-breaking season. The resort totaled 715,100 skier visits this winter, surpassing last year's record. "Business grew this season due to a multitude of factors, and we have taken great efforts to listen to all of our customers with the goal of continuously improving our operations," said Mary Kate Buckley, JHMR president. Some of those factors the resort identified include snow conditions—505" of snow on the season, including an all-time high of 193" during the month of February—increased air service, guest service initiatives, and increased skier days from passholders and the Ikon Pass.
Midwest
In the Midwest, snow held up well, allowing for many resorts to plan on staying open into April and even May. On Michigan's UP, Mount Bohemia reaped the benefits of the lake effect with 295" of snow this season, and more coming this week. While cat skiing on Voodoo Mountain shut down March 23, the main resort plans to stay open for weekends through May 4.

Lutsen Mountains, Minn., is also enjoying Lake Superior's microclimate. The resort typically stays open well into April. This year, daily operations will end on April 14, with weekend operations into May.

Boyne Mountain, Mich., will continue daily operations through April 14 as well, before moving to a weekend-only schedule. Closing date is still to be determined. Boyne has big events tentatively planned for the weekend of April 20—the Hemlock Open, its "best of both seasons" dual slalom and nine-hole scramble golf competition, and the Spring Board Meeting, its final terrain park comp of the season.

Granite Peak, Wis., still has 100 percent of its terrain open and is targeting April 14 for closing day. After opening in October, Wild Mountain, Minn., closed for the season April 7. But with more snow in the forecast this week, the ski area is considering resuming lift operations for the April 13-14 weekend.

Ski Brule, Mich., ended regular operations in the first week of April, but will be open on weekends through to the end of the month. In a blog post, employees joked that the mountain "will run out of guests before snow."

EAST
Snow continues to drop this week in the Northeast, adding to already strong snow totals this season. Even with the solid coverage, many resorts stuck to their scheduled closing dates. But, according to Ski Vermont, on the last weekend of March, 91.78 percent of terrain at Vermont ski areas was open—the highest percentage since 2012-13—and several areas were able to extend their seasons by a weekend or even weeks.

Mount Snow decided this week that it would end its season on April 14 after opening in late-October. In a press release, VP and general manager Erik Barnes credited the long season to Mount Snow's new $30 million snowmaking system, and thanked staff for their hard work and "guests who journey from near and far, weekend after weekend and storm after storm."

Okemo, which initially estimated an April 7 closing day, added another week of operations and will close April 14. Smugglers' Notch will continue regular operations until its original closing day of April 14, but then reopen for the following weekend. And Burke, which closed April 7, will also reopen for the weekend of April 20-21.

Killington, which typically boasts the longest season in the east, has not yet set a closing date. But, even in leaner snow years, the resort often runs through Memorial Day weekend. Jay Peak, which closed on May 5 last year, is looking at May 12 for closing day this season. Sugarbush is anticipating an early May close. And Sunday River, Maine, is also expected to stay open until May.

In New Hampshire, several areas are extending their seasons. Waterville Valley traditionally closes the first Sunday in April, but extended daily operations until April 14 and still boasts 58 trails and several terrain parks. Wildcat is also aiming for a protracted season. The resort has closed on April 26 the previous two years, but spokesperson Nate Ramsbottom told papers, "Every year we try to make it until May."

Cranmore had a 118-day season this year—the longest in its 81-year history. The resort opened Nov. 17 and closed with top to bottom skiing on April 8, beating its latest closing by two days. The resort has invested $2 million in snowmaking upgrades since 2010, and Becca Deschenes, director of marketing, said, "This was the season it all came together for us. Our snowmakers, our groomers and other operations personnel were working in unison to meet both early season demand and those last few days when visitors weren't quite ready to hang up their skis and boards."

SOUTHEAST
Southeastern ski areas Wisp, Md., and Cataloochee, N.C., which held on until the weekend of March 30, were rewarded with fresh snow over closing weekend. Bryce, Va., and Massanutten, Va., both reopened for that weekend as well.

Snowshoe, W.Va., also extended its season, initially slated to end March 24, through the end of the month, thanks to advantageous March weather and Snowshoe's $4 million snowmaking upgrades last summer. Snowshoe president and COO Patti Duncan said, "It has really only taken one season for us to see just how impactful our snowmaking investment has been. We feel very confident in pushing back our closing day to give skiers and snowboarders an extra week of top-notch snow conditions here in West Virginia."

Across the country, upgraded snowmaking systems and generous natural snowfall came together this season to allow for spring skiing that feels like mid-winter. The ample coverage and continued guest enthusiasm have afforded many ski areas the opportunity to gain a few more days, and even weeks, of operation.

—Report by Katie Brinton