SAM Magazine—Hancock, Mass., April 23, 2019—More than 400 ski area operations professionals, industry suppliers, and experts from across the country spent three days learning, collaborating, and networking during the 42nd annual Lift Maintenance Seminar (LMS) at Jiminy Peak, Mass., April 16-18. More than a dozen new sessions were introduced among the 60 or so offered during the event.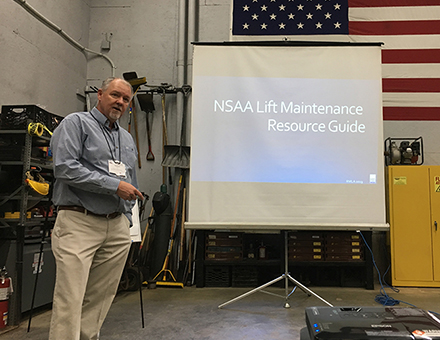 As always, a variety of the industry's best led educational sessions covering all things lifts—from motors, inspections, and gearboxes to electrical circuits, fall safety, and advanced ski lift math and physics. Attendees were peppered with knowledge throughout. Nearly every session was packed and the crowd seemed to be more engaged than ever.
The first session that engineer Neville Sachs conducted on Tuesday—"Concerned About Aging Lifts and Other Mechanical Equipment?"—was a good example. The room was full, with barely room to stand. Sachs discussed a few important things to keep up with, and keep an eye out for, on aging lifts, such as metal corrosion, bearings, and lubrication. When speaking of the latter, he said to the room, "You probably work with someone who says, 'oil is oil,' right?" Many heads nodded, and he said, "That's not true by a long shot."
Speaking at Tuesday night's Mass. GM's dinner—an annual event that gathers Massachusetts ski area leaders, industry suppliers and more—NSAA director of technical services Mike Lane, who is also a lead organizer of LMS, implored the audience to consider encouraging more ski lift techs and electricians to step up and teach seminars at LMS and other similar educational events. He said the more people we can get to share knowledge, the better off we'll all be.
On Wednesday, following his "Little Shop" general session that was full of lessons learned from this past winter season, Lane held a session introducing the forthcoming "NSAA Lift Maintenance Resource Guide." The 100+ page guide is a project about two years in the making, and is now in its third stage of reviews before an anticipated release this fall. The guide is the product of many volunteer hours put in by a large group of lift experts from across the country.
Lane said the final product will be structured in such a way that "lift maintenance personnel and their employers can clearly identify the knowledge, skills, abilities, and experience necessary for each category or level of maintenance technician identified and across the topic areas or domains used." The guide will be a valuable resource for lift maintenance technician training and knowledge evaluation. Lane was clear that it is not a certification program, like the regulated programs in some Canadian provinces.
The message of making a strong commitment to ski area lift maintenance has clearly been heard. This year's audience at LMS was very enthusiastic and engaged, as evidenced by the many conversations we witnessed between lift techs discussing their takeaways, and how they plan to implement new learnings at their ski areas. This year's event exemplified the LMS credo of "safety through shared knowledge."