SAM Magazine—Broomfield, Colo., April 29, 2019—After a rough start to the season, Vail Resorts (VR) is up year-over-year at its North American mountains for the period from the beginning of the ski season through April 21, 2019.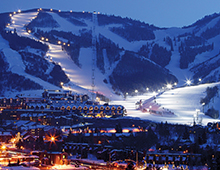 Rob Katz, chief executive officer, said, "We are pleased with our overall results as the 2018-19 North American ski season concludes, with strong growth in visitation and spending compared to the prior year."
Total lift ticket revenue was up 9.3 percent over the same period last season. After VR saw record pass sales results last spring, Katz noted that, to-date, VR has continued to see growth in pass sales, particularly with destination guests and Military pass products. Katz expects the primary impact of the new Epic Day pass product to come later in the fall and said, "Our attention is already turning to the 2019-20 season with spring season pass sales underway."
Year-over-year, ski school revenue was up 6.5 percent, dining revenue was up 7 percent, and retail and rental revenue was up 6.2 percent at VR's North America resorts. The increased guest spending is supported by increased total skier visits, which were up 6.8 percent season-to-date.
These results exclude VR's urban ski areas and Australian holdings, and season pass sales comparisons are adjusted as if Stevens Pass and Triple Peaks, LLC were owned in both the 2018 and 2019 periods. And looking forward at the whole fiscal year, Katz said, "We plan to provide more details on our updated fiscal year 2019 outlook, including the impact of the acquisition of Falls Creek and Hotham [in Australia], in our June 2019 earnings release."