SAM Magazine—Denver, June 6, 2019—Total skier visits to the 23 member ski resorts of Colorado Ski Country USA (CSCUSA) increased 13 percent over last year, finishing nearly 12 percent above the state's five-year average. The numbers reflect the current makeup of the association, adjusted for the departure of Crested Butte Mountain Resort in 2018-19.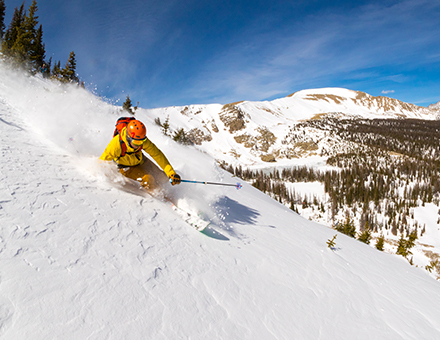 Monarch Mountain by Casey Day
CSCUSA is projecting a record 13.8 million skier visits statewide, based on publicly available information from properties owned by Vail Resorts and others that are not members of the trade organization. The previous record was just over 13 million, in 2015-16.
"The 2018-19 season was one for the history books," said CSCUSA president and CEO Melanie Mills. "Not only did the industry set a new statewide record for skier visits, but there were substantial investments in capital improvements across our member resorts, and snowfall was plentiful across the entire state."
All regions of Colorado received significant snowfall throughout the season. Late February and March had record or near record snow totals, setting up a strong end to the season. Five CSCUSA member ski areas extended their seasons as a result, with Aspen Mountain and Arapahoe Basin still spinning lifts on weekends. Also contributing to the strong season: resorts introduced six new chairlifts and five new restaurants across the state, along with the new Limelight Hotel in Snowmass, and other new activities and offerings.
"Colorado Ski Country member ski areas have shown a commitment to improving and enhancing the guest experience with new lifts, new restaurants, new lodging properties and new activities and offerings," continued Mills. "Combined with a long, strong season and geographically diverse snowfall, our members were able to deliver a record-setting year."
The visit numbers are preliminary and subject to final adjustment.