SAM Magazine—Dover, Vt., July 10, 2019—After many regions of ski country experienced wet—and even snowy—weather through much of the spring, a hot summer Fourth of July holiday period was a welcome change for several resorts. With Independence Day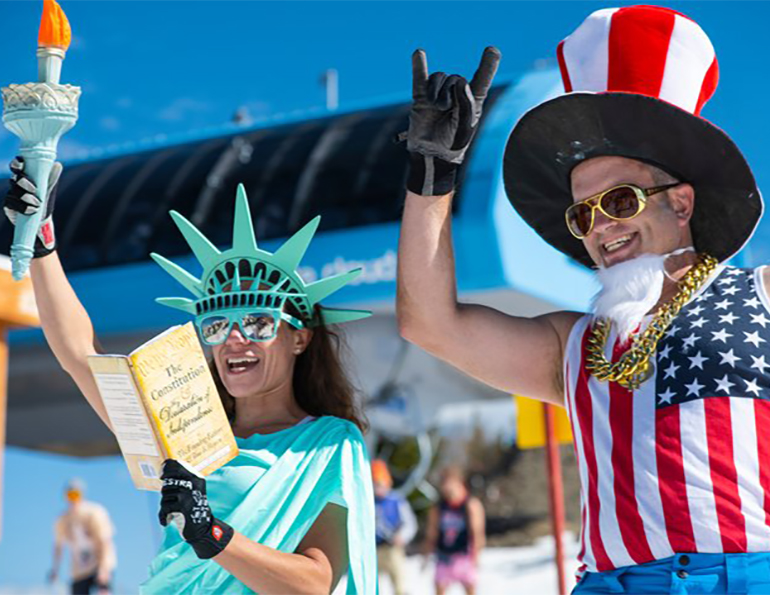 landing on a Thursday, travelers took advantage of the long weekend and made their way to the mountains.
Yawgoo Valley, R.I., enjoyed steady business to its waterpark, with many out-of-state visitors, thanks to the four-day weekend. The hot weather helped draw more people in to cool down, resulting in a 35 percent increase in revenue compared to the same time last year.
After a big snow season and a cold spring, Jay Peak, Vt., is finally enjoying some summer weather, and guests are starting get the word. "The 4th of July holiday period was on par with previous years," said a spokesperson. "Lodging and F&B profit centers are seeing the best numbers as a result of people visiting the Newport/Jay area for all the activities and celebrations the surrounding communities were offering."
High temps and humidity made the water attractions at Wild Mountain, Minn., the most popular activities over the holiday, according to general manager Joe Yasis. He said even though overall numbers were a bit down, it was busier at the mountain than in years past with lots of families coming out to enjoy themselves.
Activities and Events Spur Growth
Cranmore, N.H., was up 15 percent over the same period last year (Monday – Sunday). Fourth of July visits alone were up 37 percent in admissions to its many summertime attractions. Plus, on July 4 it held its annual Americana Celebration, with live music, BBQ, and yard games. "We saw a good turnout from not only guests in the park, but guests coming in just for the event, which is good to see it grow in only its third year," said marketing director Becca Deschenes.
At Holiday Valley, N.Y., guests were happy to get out and enjoy some warm weather after an unusually wet and cold spring. According to resort president and GM Dennis Eshbaugh, overall visitation and revenue for the week of July 1 – 7 were up nearly 17 percent year-over-year, buoyed by a great week at the golf course and strong food and beverage results. The resort also welcomed big crowds to enjoy two Summerfest Concerts over the weekend, with former Eagles lead guitar player Don Feldman playing Saturday night and the Buffalo Philharmonic on Sunday.
The stellar summer continued over the holiday at Blue Mountain, Pa., despite inclement weather on July 3 and July 6, said resort president Barb Green. Summer mountain activities—aerial course, laser tag, adventure archery, downhill mountain biking, and glamping—revenue and visitation were up about 15 percent. One new offering in particular was very successful: "Glamping has grown exponentially and contributed about 10 percent in additional revenue over the holiday compared to last year," said Green.
In the Midwest, Hidden Valley, Mo., held a grand opening and ribbon cutting for its new ZipTour attraction on Friday, June 29. The opening was a long time coming. "After a lengthy permitting process, we are excited to have guests finally enjoying our new attraction and spending time outdoors," said Hidden Valley GM Greg Gavrilets. The added media exposure coupled with the timing of the holiday and great weather helped boost visitation, he said.
Schweitzer, Idaho had a very successful holiday period, according to marketing director Sean Mirus. Revenues on the 4th of July alone were up 29 percent year-over-year despite scenic chairlift rides being down about 15 percent on the day. For the whole week, though, lift rides were up 18 percent. Every other category saw big year-over-year gains, too, led by retail and rental (50 percent), and food and beverage (34 percent).
Mirus said the end of the week was highlighted by two weddings and an ultra-marathon trail running race, Sky Runner USA. "We hosted a 25k run and a 52k run Saturday, with an 8k run on Sunday," said Mirus. "It was an amazing demonstration of determination—physical and mental toughness by all of the athletes involved."
Mt. Hood Meadows, Ore., opened over the Fourth of July weekend for summer operations for the first time ever, and VP of sales and marketing Dave Tragethon said the response was excellent. Saturday was highlighted by a brewers festival on the sun deck that attracted more than 200 people to enjoy a dozen different craft breweries, while kids played in the new "Seymour's Fort" play area nearby. Hikers and scenic chairlift riders were treated to sightings of migrating monarch butterflies and blooming wildflowers. Meadows currently operates five days a week in summer, but next year plans to expand to daily operations from the Fourth of July through Labor Day.
Winter/Summer Overlap
In Utah, lingering snow has slowed the opening of some summer activities—and even allowed the two seasons to overlap.
After spending the past couple weeks shoveling snow from trails, Powder Mountain opened its Hidden Lake Lodge and most of its trails for the first time over the 4th of July weekend. Riding the XC trails is free, but the resort had a record day for bike rentals and food and beverage on Sunday.
For the eighth time in its 48-year history, Snowbird offered skiing and riding on July 4. More snowsports enthusiasts came out to enjoy a few last turns than did people looking to participate in some of the resort's many summer activities. Spokesperson Brian Brown said the biggest challenge was managing the crowds at the ticket office—not a bad problem to have.
For summer activities, Brown said the biggest winners were the Alpine Slide and Woodward WreckTangle.
Another area that combined winter and summer over the holiday was Mammoth Mountain in California. The resort offered top-to-bottom skiing on July 4 and saw similar skier visit numbers as it did the same day in 2017, its last above-average snowfall year. Mammoth's Ski/Bike/Golf ticket—good for a lift ticket, a bike park ticket, and an evening nine holes of golf for $129—was popular. Also popular was its Freedom Bash on July 6, which sold out and included a fireworks show launched from the mountain's 11,053-foot summit—the highest fireworks show in the country. While summer has arrived, Mammoth plans to be open for skiing and riding for a few more weeks on the upper mountain.