SAM Magazine—Aspen, Colo.,Aug. 7, 2019—As the labor pool shrinks and competition for employees increases, Aspen Snowmass has responded by raising entry-level pay to $15 an hour and increasing pay for other positions across the company as well.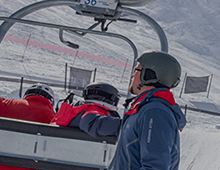 The resort has also launched a new employment website, www.aspensnowmass.com/jobs, and posted all winter job openings for the 2019-20 ski season. The new website provides detailed information on working and living in the Roaring Fork Valley.
The increase in entry level pay kicked off in June with the hiring of new summer employees, increasing pay for second and third year employees as well. In addition, Aspen Snowmass provided a cost of living increase to all salaried full time employees this fiscal year that was in excess of the rate of inflation.
"Our company is rooted in humanity, and we feel our employees are what sets us apart," said Mike Kaplan, president and CEO, Aspen Skiing Company. "We are committed to a sustainable employment strategy, enabling employees to prosper and excel, be that through industry leading pay rates, career development, continued investment in employee housing, health care for seasonal and year-round workers, or expansive wellness benefits."
Aspen Snowmass employment benefits include employee housing, health insurance for seasonal employees, free skiing at Aspen Snowmass and partner resorts, discounted bus passes, gear and health club discounts, and retirement savings accounts.
The Aspen Snowmass employment website features an FAQ page to answer questions about employee housing, benefits, job duties, and more. Different career tracks can be explored on the new website so applicants can plan for future advancement.
In person job fairs will be held this fall, with the first one scheduled for Sept. 17, at Buttermilk.