SAM Magazine—Squamish, B.C., Aug. 16, 2019—The haul rope of the Sea to Sky Gondola in Squamish, B.C., was reportedly cut in what police are calling a "deliberate act" at around 4:30 a.m. PST on Saturday, Aug. 10. Most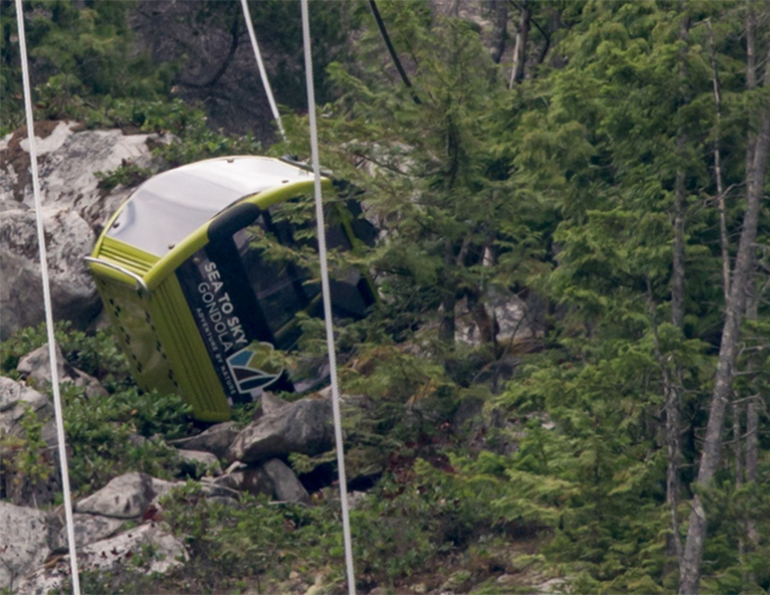 of the 30 gondola cabins on the line fell to the ground. No one was injured in the incident. The Royal Canadian Mounted Police (RCMP) is now conducting a criminal investigation.
The Sea to Sky Gondola opened in 2014 and has since been a popular tourist attraction that transports guests to a scenic mountaintop where there's a restaurant, hiking trails, and other activities. It spans two kilometers (about 1.25 miles) from base to summit.
The gondola's haul rope is 55 mm (2.17 in.) thick, made up of six strands that each consist of 25 twisted steel wires. Haul ropes, by design, are incredibly durable and strong, so cutting through one requires special equipment. The enormous amount of tension on a wire rope that big means whoever cut it put his or her own life in extreme danger, as well as endangered others who could have been in the area.
"With the forces [this person] unleashed, it could have easily, easily killed somebody," said Sea to Sky general manager Kirby Brown. "Whether there was somebody camping below, whether the rope reacted differently in the top or bottom terminal, there could have been, truly, loss of life."
With the ongoing investigation, Sea to Sky officials did not comment on whether there is surveillance video that may have captured the incident when it happened. More and more ski areas have installed surveillance cameras in base areas and at the bottom and top terminals of aerial ropeways. Surveillance video is a valuable resource for ski areas, and has helped expedite a variety of claims, among other benefits.
The Sea to Sky Gondola has already ordered 30 new eight-passenger cabins and a new haul rope. It hopes to reopen by spring of 2020.