SAM Magazine—Natick, Mass., Aug. 23, 2019— Registration for SAM's 11th annual Summer Ops Camp—a series of site visits, seminars, on-hill workshops, demos, and networking events that explore the current state of mountain resort summer operations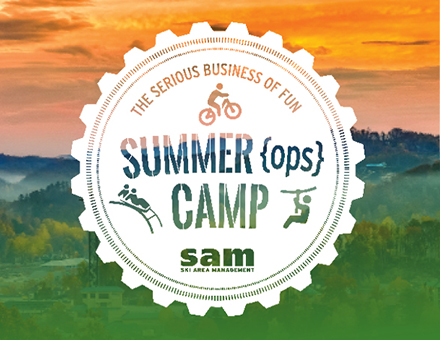 —closes Wednesday, Aug. 28. Only a few spots remain before the attendee roster is full for this year's Camp, Sept. 3-5 in Gatlinburg, Tenn.
"We cap the number of registrations for this event to ensure attendees have every opportunity to experience the activities, spend time with experts and suppliers, and not get lost in a crowd," said SAM publisher Olivia Rowan. "This way, every camper will have plenty of 'a-ha!' moments during Camp, and leave with tons of actionable takeaways and new contacts. We're going to learn and see a lot in Gatlinburg and try some first-in-the-world new zip technology."
The three-day schedule is loaded with fun and learning. Here's a sample of what a day at Camp looks like:
Start the day at Anakeesta
Campers will board new branded overland vehicles for a ride to the top of this award-winning outdoor adventure park to enjoy a hot breakfast and spectacular views of the Great Smoky Mountains. The owners of Anakeesta will share tips on master planning, incorporating mountain activities with thoughtful profit centers, and quantify the value of passive details such as shaded seating with views, garden walks, and more. Then, we'll explore Anakeesta and drop in on different stations throughout the park, where experts will discuss topics such as retail, kids play, landscaping, storytelling, food & beverage, and more. Experience the CLIMB Works zip line and tree canopy walk, Beanstalk Builders Treehouse Playground, Brandauer mountain coaster, and Sandy Creek Mining.
Next Stop, Ober Gatlinburg
We'll take the tram to Ober Gatlinburg (or ride Bikes up) and eat lunch while the resort's owner, Kent Anders, shares a brief history of the operation and its challenges and opportunities in a crowded market. Experts will lead three informative sessions: "Get Your Ride On" will cover the ins and outs of a successful bike operation, including downhill mountain biking, e-bikes, cross country, trail building, and more. Insurance experts will lead "Summer Risk Trends and the Latest Incident Data" with details about incidents, risk management best practices, and more. "How to Create True Differentiation" will provide tools to help you look at your summer branding and experience in a different way, and help you establish a unique niche in the market.
Summer Ops Demos
Try some of the special Summer Ops Camp demos and activities at Ober Gatlinburg, including: Glice® Eco-Rink™ all-weather skating; Innova disc golf products; the ADG Ski Mountain Coaster; Ober Gatlinburg's new Neveplast summer tubing park; Ropes Courses Incorporated Amaze'n Maze, and more.
Next Stop, SkyPark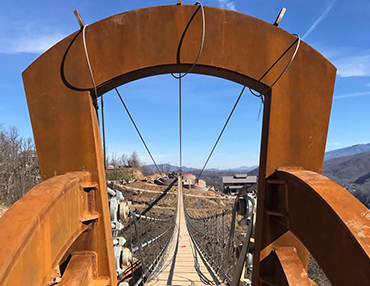 Explore the Boyne Resorts-owned Gatlinburg SkyPark, at the top of the Gatlinburg SkyLift scenic chairlift. This is home to the new SkyBridge, North America's longest pedestrian suspension bridge, which we'll experience firsthand. Hear from the designers and planners about the why, how and next steps for this unique customer experience high above Gatlinburg. Live bluegrass music by the award-winning Misty River will serenade campers while we enjoy local BBQ and games on the new SkyDeck overlooking Gatlinburg.
Gatlinburg at Night
Experience what brings 11.4 million people and $3.4 billion in sales to the Great Smoky Mountains and the mountain town of Gatlinburg.
That's just one of the three days. To see the full program, travel details, and to register, go to: www.summeropscamp.com