SAM Magazine—Big Cottonwood Canyon, Utah, Sept. 18, 2019—For the 2019-20 winter season, Solitude Mountain Resort is launching a number of initiatives to address traffic and parking congestion in Big Cottonwood Canyon and worsening air quality in Salt Lake County.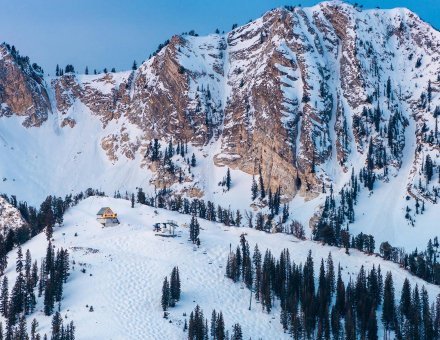 "We are using every tool at our disposal to encourage our staff and guests to use public transportation and to develop carpooling habits," said Solitude president and COO Kim Mayhew. "We are committed to reducing congestion in Big Cottonwood Canyon in order to preserve our canyon's delicate environment."
Paid parking will be implemented at Solitude's parking lots. The resort will offer tiered pricing, with fees as low as $5 per day for multi-occupancy vehicles, and will give preferential parking to carpoolers. A portion of parking proceeds will go to Breathe Utah, a clean air advocacy organization.

To facilitate carpooling, Solitude is adopting a free ride-sharing app through which skiers and snowboarders can offer or join a ride to or from the mountain. The app, spearheaded by Snowbird last winter, may become part of a wider Wasatch Front effort to encourage carpooling.
FROM THE SAM September 2008 ISSUE: green solutions

Solitude also intends to lease four 15-passenger shuttles from the Utah Transit Authority (UTA) to transport staff seven days a week. The resort estimates that this will take up to 60 cars out of the canyon on a day to day basis.

To ease parking congestion on Highway 190 in the canyon, Solitude will expand its parking space to accommodate 200 additional vehicles.

And, to make it easier for guests to utilize the UTA Ski Bus, Solitude has added 100 new guest lockers and will extend free bus access not only to season passholders but to Ikon passholders as well.

"Last winter was one for the record books, but there was some frustration around the number of cars on the road," said Mayhew. "We can leverage technology to cultivate a habit of carpooling and make public transportation more feasible. Our goal is to maximize the space we have and get everyone to the slopes safely and without delay."