SAM Magazine—Newry, Maine, Sept. 19, 2019—This year's New England Summit at Sunday River Resort introduced a revamped schedule and a new multi-session Communicators Camp in addition to its traditional mix of high-quality educational sessions, networking events, and trade show. The two-day event, held Sept. 10 and 11, attracted roughly 250 ski area operators and about 150 exhibitors, industry experts, and suppliers.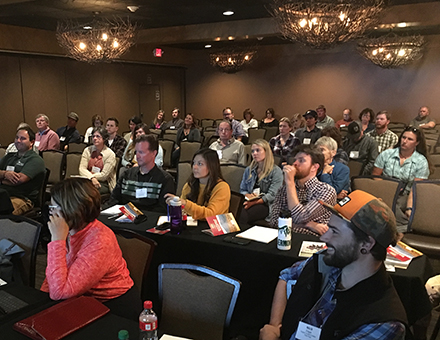 Host Ski Maine coordinated more than 40 educational seminars over two days that covered several useful and timely topics, such as climate, sustainability, marketing technology, mountain operations, and more. The National Ski Areas Association Fall Education Series mixed in sessions about lift maintenance, ski patrol, mountain ops technology, and risk management.
In addition to the seminars, Doppelmayr held a full day of "lift school" on Tuesday with a focus on electrical service of lifts. Registration for the training was expanded from 20 to 30 spots to accommodate the number of lift mechanics who wanted to participate.
Most of the seminar speakers and panelists had one thing in common: few, if any, were resort personnel. Many work for suppliers and are experts in their respective fields, and others came from outside the mountain resort industry to share their knowledge. For example, Gretchen Ostherr, L.L. Bean director of outdoor discovery programs, presented her company's strategies for acquiring and retaining customers through outdoor activities; members of the Citizens' Climate Lobby answered questions about climate change solutions; and representatives from Interexchange updated attendees on the Summer Work Travel program and discussed best practices for host employers of J-1 visa students, just to name a few.
The revamped schedule was consolidated into two days, with sessions going from morning to late afternoon both days. The other big adjustment was moving the evening trade show and reception from Wednesday to Tuesday so attendees could get home after the final seminars on Wednesday. The always-lively trade show kicked off Tuesday at lunch, and the sold-out hall was filled again on Tuesday night for a reception that preceded dinner, cocktails, and fireworks on the back patio of the Grand Summit Hotel. An extended lunchtime trade show on Wednesday gave vendors and resort attendees more time to mingle.
"The change was quickly embraced by the vendors and was one more reason for such a successful event," said Ski Maine Association executive director and New England Summit organizer Greg Sweetser. "This change, combined with several expanded content sessions, made this event a great value for all involved. Ski areas received exceptional training opportunities for staff, and the networking at the Patio Party on Tuesday evening was excellent."
Inaugural Communicators Camp
The North American Snowsports Journalists Association (NASJA) continued its efforts to expand educational opportunities for resort communications pros by introducing Communicators Camp—a three-session series presented by Robin Schell and Stacey Smith from behavioral PR firm Jackson, Jackson & Wagner, along with Jayme Simoes from PR and communications firm Louis Karno & Co. The effort attracted several resort personnel to the Summit that otherwise may not have attended. All three sessions drew an audience of 40 to 50 communicators from resorts, suppliers, state associations, and more.
The presenters were very thorough, and, as one attendee put it, "took a whole semester's worth of content and fit it into three sessions." But it wasn't overwhelming, and the crowd seemed fully engaged in what was being shared.
The sessions covered different aspects of how to effectively communicate with a resort's audience. Rather than taking a dos and don'ts approach, though, the presenters offered foundational strategies from a holistic, research-based point of view. More psychology and behavior than stats and data.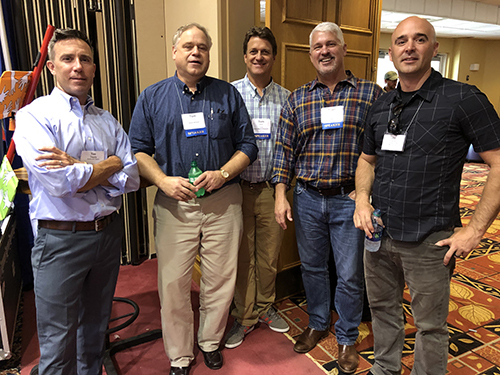 View the NES 2019 album on Facebook.
It started with developing a behavior-based PR plan. This session weaved familiar theories and processes, such as Maslow's Hierarchy of Needs and the adoption lifecycle bell curve, with other, perhaps less familiar—but equally as useful—models and ideas. The aim: to help attendees understand the behavior and psychology of their guests, and see how this will ultimately lead to more effective communications.
Session two covered research-based branding. A brand is way more than a logo, a tagline, and a color scheme, the experts said. Developing a brand starts by clearly defining your company's mission, vision, and guiding principles. All the rest of what is often called branding should build on that foundation. A variety of suggestions for how to determine these pillars were offered, many of which include conducting research and studies that involve both internal and external stakeholders. How many resorts are actually doing this in order to define their brand?
The third and final session, titled, "Employees as Brand Ambassadors," was highly interactive. The crux of this session was that employees need to be happy, engaged, and rewarded before you can even try to leverage them as brand ambassadors. In other words, if your employees love where they work, they'll naturally become brand ambassadors. To that end, much of the session's content—and discussion—was about how to engage employees and create a better workplace for all.