SAM Magazine—Park City, Utah, Nov. 18, 2019—Snowsports Industries America (SIA) has reached an agreement to acquire the Boston Ski and Snowboard Expo and the Colorado Ski and Snowboard Expo from BEWI Productions, Inc., which has produced the shows for more than 40 years. Terms of the deal have not been disclosed.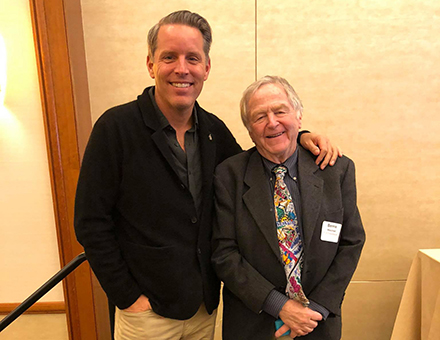 SIA's Nick Sargent with Bernie Weichsel
The move to take on consumer-oriented events is new for SIA, which is a non-profit, member-owned trade association "representing the winter industry including, suppliers, retailers, sales reps and resorts."
SIA president Nick Sargent said the organization was looking for a way the organization can best serve the industry amid the changing consumer landscape. "Consumer shows make a ton of sense. Suppliers, specialty retailers, and all industry stakeholders will benefit from these kinds of experiential and direct interactions with winter sport consumers and enthusiasts," said Sargent. "We look forward to building upon the legacy and tradition that the BEWI shows have come to represent, while unveiling a new modern, consumer-oriented approach to this celebration of winter."
BEWI Productions, Inc., was founded in 1979 by industry luminary Bernie Weichsel. In addition to producing the expos alongside his team at BEWI, Weichsel has also been an advocate for growing participation in skiing and snowboarding. For example, he spearheaded the New England Growth Initiative, which aimed to engage consumers, retailers, and resorts through different offers and promotions.
"I could not be happier that SIA will continue to bring consumer shows to the people of Boston and Denver," said Weichsel. "BEWI has been a long-standing partner to the winter industry and has provided the local consumer with important access to retailers, resorts, and brands, and created an overall excitement for winter." The expos have long been considered "the unofficial kickoff to winter."
SIA said it plans to start the transformation of the Denver and Boston shows in the fall of 2020, and is considering expanding to additional cities.