SAM Magazine—Philadelphia, Nov. 21, 2019—Perfect North Slopes has purchased the land and assets of Timberline Four Seasons Resort in a bankruptcy court auction at the Philadelphia offices of Timberline's attorneys yesterday. The purchase price was $2.2 million.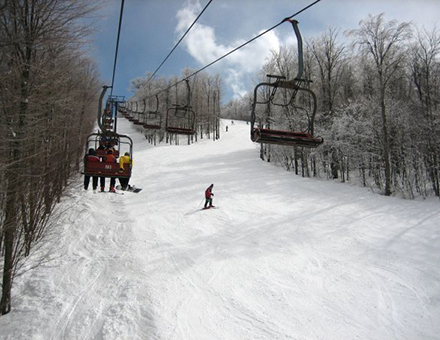 Members of the Perfect North Slopes management team will be forming a new management group, with the intent to revitalize the Timberline Ski Area to its fullest potential, and reopen the resort for the 2020-21 season.
"We are excited to bring our extensive ski area operation experience to the Timberline property," said Perfect North Slopes owner Chip Perfect, speaking to skisoutheast.com. "The property has great potential, a stunning West Virginia setting, and some fabulous terrain and ski runs.
"The property, however, is not without its challenges. It is going to take some time to overcome those obstacles." Perfect acknowledged that the effort will require the participation of the community, and said, "The people who have committed to that community give me great excitement that they are going to be great team members with us."
According to local reports, Perfect North was the second-highest bidder. But the high bidder, First Asset Holding LLC, assigned its winning bid of $2.2 million to Perfect North Slopes in exchange for $30,000 in cash.
The winning bid slightly exceeds the $2.12 million in claims filed against Timberline in the bankruptcy proceedings.
Timberline ended its 2018-19 ski season in February, after experiencing operational, financial, and legal troubles. It filed for Chapter 11 bankruptcy protection in April.
The resort has nearly 1,000 feet of vertical drop, glade skiing and sweeping views from its 4,268-foot summit. It had been operated by the Reichle family since January 1987.