SAM Magazine—Ludlow, Vt., Nov. 21, 2019—Temperatures dropped to record lows across the country last week, allowing resorts in many regions to fire up the snow guns ahead of the Thanksgiving holiday. A steady stream of ski areas in the Northeast and Midwest continue to open, often with top to bottom skiing and riding on multiple trails. Conversely, across Utah, Tahoe, and the Pacific Northwest, operators have been battling a mild and dry November. Colorado continues to benefit from prime early season conditions.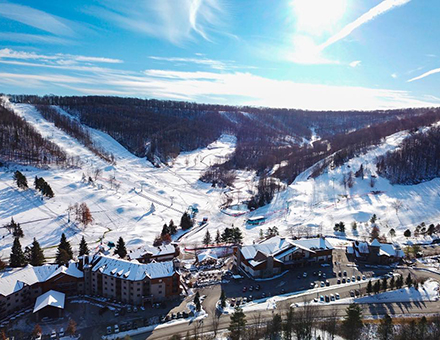 Holiday Valley, N.Y.

East
While last year brought significant early snowfall to the Northeast, operators throughout the region have relied primarily on snowmaking to get resorts up and running this winter. Adam White of Ski Vermont noted that the record cold temps of the past week have allowed the state's advanced snowmaking to be at its best: "The snowmaking systems at Vermont ski areas are running at absolute peak efficiency," he said.

Early openers have added terrain quickly thanks to aggressive snowmaking. Killington, Vt., which opened Nov. 3 with 600 vertical feet of skiing, is now operating on 21 trails. Mount Snow, Vt., opened last week with 12 trails across three mountain faces, and is anticipating adding more throughout the week. Loon Mountain, N.H., which is opened on 14 trails, said it has snow "piles for miles" and is expecting to expand its open terrain before the holiday.

At least a dozen ski areas across the region are set to open or reopen this coming weekend. Many targeting pre-Thanksgiving openings have made good use of the November cold snap, maximizing their snowmaking capacity to cover a significant amount of terrain. A few examples:

Okemo, Vt., is planning to drop ropes on 25 trails on Nov. 22. Neighbor Stratton is pushing out 20 plus trails and a park ahead of its Nov. 23 opening.

Cannon Mountain, N.H., expects to start spinning lifts on Nov. 23 top-to-bottom on 20 trails. Holiday Valley, N.Y., will open a week ahead of schedule on Nov. 22 with six slopes. Resort president Dennis Eshbaugh credited the snowmakers—who made more than 300 acre feet of snow in the past few weeks—for the early opening.

Ski areas further south have also been amassing manmade snow over the past few weeks. "We are stockpiling it and will be ready to go," said Tom Watson, executive vice president of Winterplace, W.Va. The resort's upper mountain already has good coverage, and the area may open the weekend after Thanksgiving.

According to SkiPA executive director Linda Irvin, Pennsylvania has had a strong November, with several resorts—Bear Creek, Blue Mountain, Roundtop, Big Boulder and Shawnee—open or scheduled to open before the holidays. "Big Boulder generally opens first, but it is unusual for five of our member resorts to be open before Thanksgiving," said Irvin.

Midwest
Temperatures have been roughly 10 degrees below average this November across the Midwest, according to AccuWeather. There's been nothing recordbreaking in terms of natural snowfall, but the cold has allowed many resorts to optimize snowmaking and drop ropes ahead of schedule. Among those that are open, or opening soon:

Mont Du Lac, Wis., got an early start thanks to the cold temps, opening two trails on Nov. 14, but the resort is closed this week while operators wait out a warm-up. "Everything at a ski resort is weather dependent," sales and marketing manager Bridgette Duffy told local news outlets. Duffy noted that while the resort was excited to open early, "Our projected opening date was Thanksgiving, which is still what we're shooting for in the entire park."

Alpine Valley Resort, Wis., reopened Nov. 13 after its earliest opening ever on Nov. 9, with 100 percent of its runs. Little Switzerland, Wis., had a historic early opening on Nov. 15; on social media, the resort encouraged guests to "thank a snowmaker" for the 100 percent trail coverage. The same weekend, Bittersweet Ski Resort, Mich., opened early for its third year in a row, with a three-foot base of mostly manmade snow.

Lutsen Mountains, Minn., started making snow in late October as nights fell well below freezing. The resort opened on schedule Nov. 16., then shut midweek. Lutsen expects to reopen Nov. 23 and 24 with five lifts and 15 runs. Several other resorts in the region will also be opening or reopening this weekend: Boyne Highlands, Mich., Ski Brule, Mich., Afton Alps, Minn., Powder Ridge, Minn., Cascade Mountain, Wis., and Granite Peak, Wis., to name just a few.

West
Things have been tough in Utah, Tahoe, and the Pacific Northwest—November has been mild, offering little to no natural snow and presenting few opportunities for snowmaking. A handful of resorts have pushed to open ahead of Thanksgiving, but many more are delaying their openings.

Brighton was the first to open in Utah on Nov. 19 with two lifts and five runs. "In spite of less than ideal pre-season conditions, Brighton was able to make enough snow to provide adequate coverage around our base area, including Majestic and Explorer lifts," said marketing director Jared Winkler.

Neighboring Solitude Resort decided to push its opening back a week from Saturday, Nov. 23 to Friday, Nov. 29, citing warm weather and the lack of early snowfall. "Based on the current forecast, we expect that our new opening date will provide the best mountain experience for our guests, and we look forward to welcoming them to our snowy slopes later this month," said Kim Mayhew, Solitude president and COO.

In Tahoe, Alpine Meadows opened Nov. 15 with one run and is hoping to expand soon. "Our snowmakers are on every night monitoring, and whenever there is an ability to make snow we are definitely making it," spokesman Alex Spychalsky told news outlets.
Nearby, Heavenly and Northstar, Calif., both scheduled to open Nov. 22, have pushed back their opening weekends due to the warm weather. Heavenly is now targeting Nov. 27, while Northstar is aiming for Nov. 29. Mountain High is planning to be the first ski area in Southern California to start spinning lifts on Nov. 22.
The season was slow to start last year in the Pacific Northwest, with many resorts reporting just a third of their normal snowpack by early December. This year is looking similar. Areas west of the Rockies are at less than 50 percent of their average precipitation, according to published reports.
Resorts such as Timberline, Ore., Mt. Baker, Wash., and Mt. Hood Meadows, Ore., are all still waiting on snow and cold to build enough base to open. According to Powderchasers.com, it looks like the weather will finally turn the weekend before Thanksgiving, with a storm that will drop snow in the Cascades and northwestern Montana.
A second storm should hit the Southwest, potentially bringing two feet of snow to parts of Utah, Arizona, and southern Colorado. Brian Head, Utah, which is set to open Nov. 22, is likely to benefit. So is Arizona Snowbowl, also scheduled to open Nov. 22.
Resorts in central Colorado are still enjoying good early season snowpack. Conditions are so good Aspen has pushed up the opening date for Aspen Mountain and Snowmass by five days. The resorts will now open Nov. 23. Purgatory and Silverton will also open this weekend. And Wolf Creek, first to open last year, will reopen for the season Nov. 23, as well.
With all the excitement around early openings, resorts still waiting for cooperation from Ma Nature need only remember: it's still very early. If nothing else, news of more resorts opening feeds the stoke, so once lifts do start spinning it will be that much more exciting for loyal skiers and riders.
Note: This report is derived from published reports and news releases, as well as information on snow report aggregators, such as snocountry.com. We apologize for any errors. Also, this report makes no attempt to include all open or soon-to-open areas, as there are too many to mention.