SAM Magazine—Wachusett, Mass., Dec. 10, 2019—The second annual Northeast Weather Summit, held Sunday, Dec. 8 at Wachusett Mountain in central Massachusetts, was the result of a collaboration between the North American Snowsports Journalists Association (NASJA), Wachusett Mountain, Blue Hill Observatory Science Center, and regional meteorologists. The event aimed to accomplish multiple ends: gather together broadcast meteorologists and mountain resort industry representatives, provide a relevant mix of educational content, and offer a networking opportunity to enhance relationships between broadcast meteorologists and the resort community.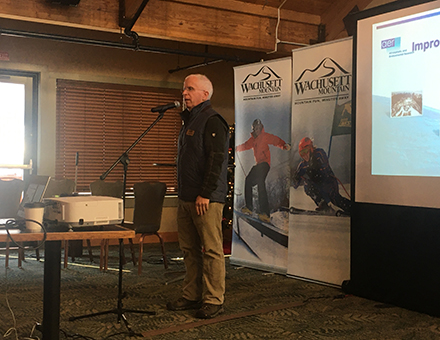 More than a dozen meteorologists from local, regional, and national media outlets attended, which was an excellent number for the event only in its second year. The agenda was likely a major draw, as it featured presentations by prominent experts in the field of meteorology, including Judah Cohen, Ph.D, director of seasonal forecasting and principal scientist at AER (Atmospheric and Environmental Research), and Hayden Frank, senior meteorologist, National Oceanic and Atmospheric Administration/National Weather Service, Boston/Norton, Mass.

A panel discussion about creating future ski industry managers and future meteorologists covered a lot of ground. The panel included New England Cable News (NECN) and NBC 10 Boston meteorologist Tim Kelley, Pats Peak, N.H., general manager Kris Blomback, and from Northern Vermont University in Lyndon (formerly Lyndon State College), Dr. Sean Doll, chair of the Mountain Resort Management Program, and Dr. Aaron Preston, professor, Atmospheric Sciences and Meteorology Department. Kelley and Blomback were roommates at Lyndon State.
See full photo album on our Facebook page.

The panel brought forth a few interesting ideas for how students in the two represented programs can be the future conduits between the two industries, starting when the kids are in school. In fact, one of the students in attendance had just landed a job as the snow reporter at Burke Mountain, Vt. Blomback discussed how Pats Peak hired climate experts to forecast the probability of snowmaking conditions for the resort, which was an interesting step in planning and maximizing efficiency.

Other ideas included having meteorology students intern at resorts—a mutually beneficial opportunity, it would seem—and have news stations invite vendors and experts to do instructional bits on the air to help prepare viewers for coming weather.
An important session that was also held in similar fashion, if you will, at last year's inaugural Summit was about how, in winter, there's no such thing as bad weather, just bad clothing choices. It was a good message for broadcast meteorologists.

Finally, Wachusett owner Jeff Crowley joined HKD Snowmakers vice president Ian Jarrett and Snowright founder Steve Young to discuss snowmaking process and technology, as well as the latest in snow-depth management technology. Jarrett detailed the differences between natural and manmade snow crystals, and how modern snowguns work. Young explained how using GPS systems on snowcats and detailed data sets improve snowmaking and grooming efficiency. As a customer of both companies, Crowley attested to how beneficial all of this technology is to ski area operations.

From technical and scientific, to practical and operational, the event was certainly a learning experience for all attendees. However, it was surprising to see only a small handful of mountain resort industry representatives there. This event is a huge opportunity to get valuable face time with several influential broadcast meteorologists, and to learn how best to provide them with content, among other things. SkiNH's Jessyca Keeler and Shannon Dunfey-Ball, and Ski Vermont's Molly Mahar were there, and will surely share their findings with membership. Hopefully more from the resort side will take advantage of this opportunity at next year's event.