SAM Magazine—New South Wales, Australia, Jan. 7, 2020—Most of Australia's ski resorts are threatened by the unprecedented bushfires that continue to ravage much of the country's natural splendor. One historic ski hill—Selwyn Snow Resort located in the Snowy Mountain region of New South Wales—was directly in the path of the flames, with the resort reporting on Monday that its buildings were "severely damaged" by the passing firestorm, while the toll on lifts and snowmaking infrastructure was still being assessed.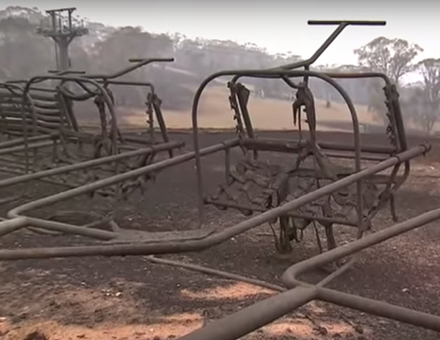 Responding to Selwyn's photos of charred lifts, gutted buildings, and hellish red skies, one Selwyn skier said, "First place we ever skied…so sad, but hope you can rebuild," while another wrote, "So devastating to see this, my kids learned to ski here, we have many, many fond memories of this awesome little resort."
No Selwyn staff members were injured in the destruction. The resort promises to rebuild "an even better Selwyn."
Unseasonably high temperatures and months of drought have made this wildfire season the worst in Australia's recorded history. More than 6 million hectares (15.6 million acres) have already burned, a figure more than double that of the combined fires of California and the Amazon. Twenty-four people have died as well as an estimated half a billion animals.
Though wildfires are burning across Australia, New South Wales and Victoria have been particularly affected. These states are home to Australia's most prominent mountain ranges and ski resorts.
In Victoria, Mount Buller, Mount Hotham, Falls Creek, and Mount Stirling Alpine Resort are all in danger due to nearby bush fires. In New South Wales, Perisher, Thredbo and Charlotte Pass are all threatened by unchecked fires razing the surrounding mountains.
At many ski resorts, brave volunteers are taking dramatic action to save their beloved slopes. At Perisher, for example, snowmaking guns have been employed as ad-hoc firefighting equipment. Local skiers, resort staff—including the CEO and GM—as well as about eight local firefighters have been working night and day to prepare for the coming fire. A trench has been dug around the Perisher fire station to serve as the contingent's last resort should things take a turn for the worst.
As essential infrastructure such as roads and electrical stations are destroyed around the Snowy Mountains, not to mention hundreds of homes and other structures, the damage being done to the local economy is unfathomable. It may take years for the Australian ski industry to rebound from the tragedy currently unfolding.
Reported by Clint Carrick