SAM Magazine—Natick, Mass., Jan. 9, 2020—The online voting for the HKD and SAM "I AM a Snowmaker" contest is now open, and continues through midnight (EST) on Tuesday, Jan. 21. Started in the winter of 2013-14, the annual I AM contest highlights the hard work, determination, and camaraderie of snowmakers, and recognizes how critical they are to the success of the mountain resort industry.

Seven teams were chosen in October 2019 to move forward in the contest. Each of the final teams created a compelling video showcasing their snowmaking team's dedication and hard work, and that also explore why they do what they do.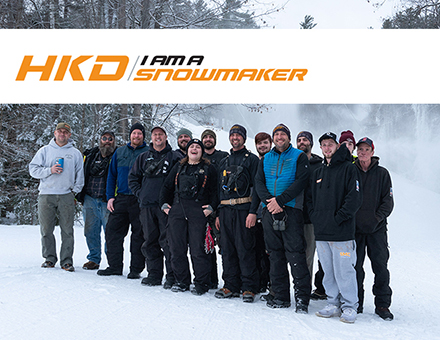 The seven teams competing in I Am a Snowmaker are:
Aspen Snowmass, Colo.
Bristol Mountain, N.Y.
Eaglecrest Ski Area, Alaska
Gunstock, N.H.
Hunter Mountain, N.Y.
Killington Resort, Vt.
Pats Peak Ski Area, N.H.
They were chosen from a competitive group of submissions from resorts all over North America.
"Wow. Get ready to watch the most amazing stories of snowmakers you have ever seen. These videos show the grit, tenacity, humor, and passion snowmakers have for one of the hardest jobs on the mountain. SAM is proud to be a part of this important recognition of their dedication," said Olivia Rowan, publisher of SAM Magazine.
"We at HKD are excited to showcase the 2019/2020 I AM a Snowmaker crews and their stories," said HKD president Charles Santry. "This year there is a tremendous amount of enthusiasm around the I AM. We had the highest number of nominations, and those that were chosen provided videos that display the grass roots dedication, training, teamwork, and passion that defines snowmakers. I encourage everyone to watch the videos, vote for your favorite, and support the hard working snowmakers who make our industry possible!"

Each team has submitted a team photo, a Mad Lib-style description of the crew, and a short entertaining and informative video. To view the profiles, videos, and most importantly vote, please visit: www.saminfo.com/i-am-a-snowmaker or click on the images below.
| | | |
| --- | --- | --- |
| | | |
| | | |
| | | |