SAM is providing frequent updates, guidance, and ways to connect about the effects of the coronavirus pandemic. Visit our Coronavirus Update page for more resources and special reports. For email updates, sign up to receive Headline News, and, if possible, help support the voice of the mountain industry, SAM Magazine, with a subscription or gift subscription for someone in need. Together, #WeGotThis.
SAM Magazine—Vipiteno, Italy, April 22, 2020—Snow-gun manufacturer DemacLenko has developed a way to use its high-output fan guns for "wide-area disinfection of public spaces."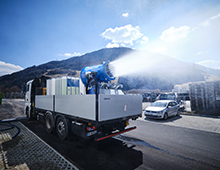 The company ran tests at its Vipiteno, Italy, headquarters with a fan gun mounted to the back of a truck, alongside tanks filled with 100 percent biodegradable disinfectant liquid. The disinfectant is fed to the fan gun and sprayed across a wide area as the truck moves. Another test was conducted using a fire engine towing the fan gun on a trailer.
The local agency for civil protection approved of the apparatus, and it is now available free of charge to communities in South Tyrol.
Watch the unit in action here.
Is your company producing new products or utilizing existing products in creative ways to combat the spread of COVID-19? Send information to news@saminfo.com.