SAM Magazine—Seven Springs, Pa., April 28, 2020—The man behind the development of Seven Springs Resort, Pa., and HKD Snowmakers, Herman Dupré, died April 25 at his Seven Springs home. He was 87.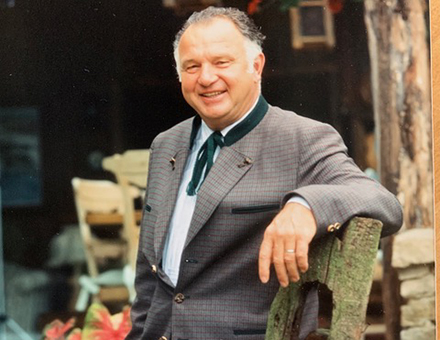 Dupré took over managing Seven Springs Resort at age 23 upon the death of his father. He transformed the hunting and fishing camp into one of the top year-round destinations in the Mid-Atlantic. He held 34 patents, many of which were devoted to his true passion, snowmaking. The technology he invented was put into service at Seven Springs in 1973, and allowed the resort to build one of the largest—yet most efficient—snowmaking systems in the world. Many of his innovations formed the basis of HKD Snowmakers, which was founded in 1990 and is now one of the leading snowmaking equipment manufacturers in the world.
In recognition of Dupré's many contributions to the ski industry, from resort development and management to leadership and innovation, he received the Lifetime Achievement Award from the National Ski Area Association.
Dupré loved the outdoors and enjoyed being around people. From his obituary:
"During his lifetime, Herman planted over a million trees, and he probably spoke to nearly that many people. He could be found in all corners of Seven Springs asking visitors and staff, 'How can we be doing things better around here?' That simple question showed his humility, his optimism, and his recognition that nearly everyone is an expert at something. His was a life of learning, teaching, and difference-making. His quest for improvement got him out of bed early every day, and he met every day with gusto."
Herman Dupré is survived by his wife of 63 years, Sis, nine daughters, 29 grandchildren, and two great-grandchildren.