SAM Magazine—Killington, Vt., May 1, 2020—In response to COVID-19 impacts, Powdr has launched the Passholder Promise at Killington Resort in Vermont. The Promise provides 2019-20 season passholders with discounts on 2020-21 passes or K-Tickets, a refund guarantee and extended spring pricing on 2020-21 season passes, and a guarantee for the resort's all-seasons subscription pass, Beast 365.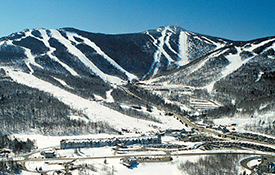 In an email to passholders, Killington and Pico president and GM Mike Solimano said, "Although we fully expect to be open for summer operations and the 2020-21 ski season, we know that the COVID-19 situation is causing uncertainty, and the Passholder Promise is designed to let you plan and purchase with confidence."
All 2019-20 season passholders will receive a voucher toward a 2020-21 season pass or K-Ticket. Voucher values range from $50 for Vermont Student passholders to $150 for adults holding an Unlimited Pass. Values are based on pass type and age group. The vouchers will be valid through the end of the 2020-21 season and can be redeemed online or via phone purchase.
Best pricing for 2020-21 passes has been extended through July 15, 2020. The resort's three-installment payment plan will also be available through that date.
In addition, any 2020-21 passholder who has not used his or her pass by Nov. 20, 2020 can be issued a full refund if they so choose, for any reason. The resort's winter season typically runs from late October to early June.
The Beast 365 all seasons, unlimited subscription pass allows passholders to pay monthly, and Killington is guaranteeing passholders will not be charged for the months the resort is not open due to COVID-19.
"We hope that you find this token of our gratitude as a genuine regard for your support and patronage, and we hope that you continue to stay healthy and do what you can to support your friends and neighbors so that we may all resume doing what we love with those we love when these challenging times subside," said Solimano. "We remain hopeful to be able to ski and ride on Superstar again this spring."