SAM Magazine—Denver, Sept. 1, 2020—Red Mountain in British Columbia, Canada, is now a partner resort on the Ikon Pass. Ikon Passholders now have access to a total of 44 destinations for the 2020-21 season.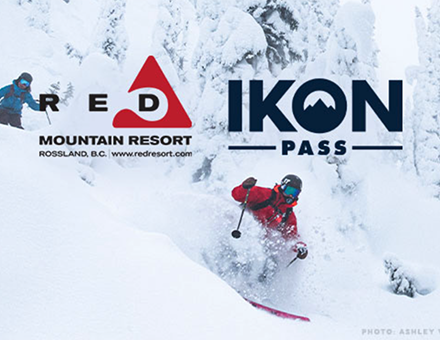 Independently-owned Red Mountain is among the 10 largest ski areas in North America with 3,850 acres of skiable terrain. Since 2013, Red has continued to open new terrain, introduced pay-per-run cat skiing, added The Josie, a new ski-in/ski-out boutique hotel, and opened a new modern hostel, Nowhere Special, at the base of the mountain.
"We are thrilled to invite Ikon Pass holders to Red Mountain and expand access into the great Monashee Mountains of Canada," said Alterra Mountain Company chief marketing officer Erik Forsell. "We are always looking for partners that define an independent spirit, incredible offerings, and a love of the mountains, and Red lives that each day."
Ikon Pass holders will have access to seven days at Red with no blackout dates, and Ikon Base Pass holders will have access to five days each, with select blackout dates. There is no access to Red on the Ikon Session Pass 4-Day.
"As one of the first ski resorts in North America, Red Mountain defines authenticity, anchored by an emotional connection to its history, community, guests and staff," said Red CEO and chairman Howard Katkov. "To stay sustainable and current in the ever-changing ski travel market, we are proud to become the latest Ikon Pass partner and join a list of iconic mountain destinations that share the same devotion to authenticity and character."