SAM Magazine—Sept. 9, 2020—A cold snap earlier this week marked the end of summer in Colorado, as a storm dropped more than a foot of snow in parts of the region. With eyes turning toward winter, resorts have begun rolling out opening dates and operating plans for the 2020-21 season.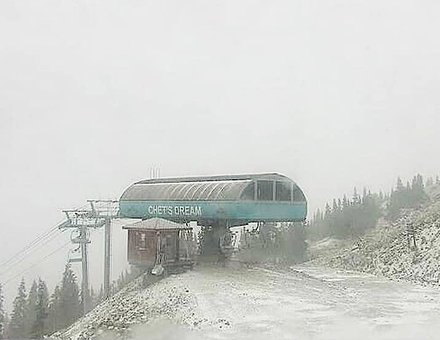 Loveland's webcam caught the first snow on Chet's Dream
Loveland Ski Area, Colo., plans to begin snowmaking Oct. 3 and is aiming to open mid-month. So is Arapahoe Basin, Colo. Vail Resorts' (VR) Keystone, Colo., will not be joining the race to drop ropes first this year. Instead, it's eyeing a Nov. 6 opening day.
Back in August, VR released provisional opening and closing dates for all of its resorts. A range of November openings are planned, with Breckenridge, Colo., Wildcat, N.H., and Mount Snow, Vt., all targeting the weekend of Nov. 13. For Nov. 20 openings, the list includes Vail, Colo., Park City, Utah, Heavenly and Northstar, Calif., Hunter, N.Y., Okemo and Stowe, Vt., and Afton Alps, Minn. Beaver Creek and Crested Butte, Colo., Whistler Blackcomb, B.C., and Mt. Sunapee, N.H., are looking at Thanksgiving Day or just before. (Vail's other properties are scheduled to open between early and mid-December.)
The company also released an operating plan requiring reservations for all visitors, including passholders. Additionally, VR properties and its reservation system will be open exclusively to Epic Passholders until Dec. 8, when lift tickets will go on sale to the general public based on remaining availability.
Wolf Creek, Colo., which often opens for early season turns, won't be using a reservation system but has self-imposed a cap of 5,000 skiers a day. While capacity is 6,800, the resort typically sees closer to 5,500 guests on peak days, with mid-week visitation hovering around 1,500, according to reporting by Jason Belvins in The Colorado Sun. To control the flow of guests, the resort will also adjust its pass-pricing structure, creating premium and mid-week-only tiers.
Monarch Mountain, Colo., another smaller independent resort, is also planning to forgo a reservation system. Instead, passholders and those who have prebooked their tickets will be allowed to show up on any day, although day-of ticket sales may be limited, and the ski area is encouraging guests to ski mid-week. An opening date has yet to be set.
POWDR resort Copper Mountain, Colo., will be dropping ropes later than usual, on Nov. 30, the idea being that the resort will open with more skiable acreage and running lifts, allowing guests to spread out and social distance. The resort is also implementing a parking reservation system to limit the total number of guests on property.
Alterra-owned Steamboat, Colo., said it will start spinning lifts Nov. 21. The resort had its earliest opening ever last year on Nov. 15, 2019. Also in Colorado, Winter Park is looking to open Nov. 18, while Aspen Mountain, Aspen Snowmass, Eldora, Purgatory, and Telluride all plan to open on Thanksgiving or in the days leading up to the holiday.
Jackson Hole Mountain Resort (JHMR), Wyo., is also targeting Thanksgiving Day, Nov. 26, to open this year. The resort is planning on capping capacity and has halted pass product sales until Oct. 5. While passholders will not require a reservation, when pass sales resume, JHMR will no longer sell its 7- and 10-day products.
Solitude, Utah, is eyeing a Nov. 20 opening, weather permitting. Last year, the resort had to postpone its opening day from Nov. 23 to Nov. 29 due to warm temps.
And, Big SNOW American Dream, N.J., North America's first indoor ski area, reopened Sept. 1 after a five-month closure. The ski area resumed operations with guest and ticket caps in place, along with other COVID-related provisions.
SAM will continue to report on opening plans across all regions as they are made available. Please contact news@saminfo.com to share your opening plans.