SAM Magazine—Albany, N.Y., Oct. 19, 2020—The governments of New York state and the Quebec province have given ski areas in their respective regions the greenlight to open this winter. In both regions, reopening is contingent on compliance with stringent public health recommendations.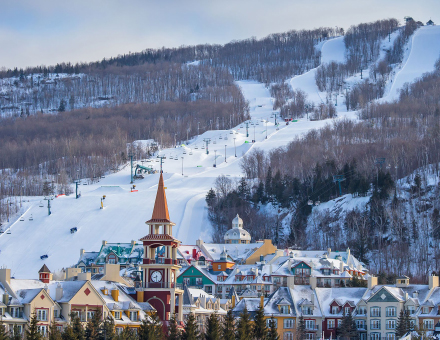 Tremblant, Quebec
New York
Beginning Nov. 6, New York ski areas will be allowed to operate with 50 percent indoor capacity. The interim guidelines put out by Gov. Cuomo and under review by the Ski New York Legislative Committee include relatively standard mandates: face coverings required unless eating or drinking; social distancing between parties at all times; ride-with-your-party lift protocols; and increased sanitization of rental equipment.
Lessons at New York areas will be limited to no more than 10 people, and transport, F&B, and retail services will be required to conform to additional state-issued guidance. Resorts are also being instructed to operate at 25-percent reduced outdoor capacity during peak periods or when terrain on offer is limited.
These restrictions are subject to change, and Ski NY is in the process of evaluating which guidelines are required and which are merely recommended. New York will be relying on a data-driven micro-cluster strategy to navigate a scientist-predicted spike in infections this fall. But, said Cuomo during a briefing, "Ski resorts will be allowed to reopen with limited indoor capacity, which will allow New Yorkers to have some outdoor activity this winter without having to quarantine when they come back."
Quebec
Quebec is currently using a four-alert-level system to determine the severity of operating restrictions throughout the province. Even under the maximum level, red, resorts will be allowed to keep lifts spinning, said Quebec Ski Areas Association (ASSQ) president and CEO Yves Juneau.
The province's 75 ski areas will be expected to keep a daily registry of all guests. ASSQ is in the process of developing an electronic tool to help resorts comply. Guests are being encouraged to buy their tickets online. And interregional travel to and from high alert zones will be restricted.
Access to indoor facilities will be limited based on occupancy, with physical distancing mandatory inside and outdoors. Face-coverings will also be required indoors and on lifts, and guests will be encouraged to ride the chair with their party. Additionally, gondolas will be limited to 50 percent capacity.
"We are helping our members to deal with the situation to ensure the health and safety of all, while providing an enjoyable experience for skiers under these extraordinary circumstances," said Juneau. "In fact, the association is currently preparing an extensive awareness campaign to encourage customers and resort personnel to follow the health and safety rules for the coming season."