SAM Magazine—Albany, N.Y., Oct. 23, 2020—As the winter season approaches, ski-country states and state ski associations are unveiling guidance and requirements for ski areas to open as safely as possible amid the ongoing pandemic.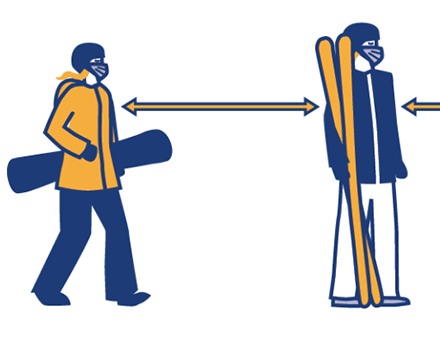 Many plans include the National Ski Areas Association's "Ski Well, Be Well" guidance. In most cases, individual ski areas must submit operating plans for approval, using outlined protocols as the basis for their plans.
California
Ski California, the trade association for ski areas in California and Nevada, is promoting a "Know Before You Go" approach, encouraging skiers and riders to always check with the ski area they plan to visit ahead of time to learn about changes in operations, policies, and procedures.
"Although some things will be different this winter, our member resorts are prepared to open and operate safely to bring the same on-hill experience skiers and riders love," said Mike Reitzell, Ski California president. "All of our resorts have been diligently working since March to ensure their operations can adhere to ever changing public health and safety requirements. Some procedures will vary by resort, but all resorts are aligned in their desire to have a full ski season. To do this, it's going to require active adherence to established policies by resort guests."
See Ski California's plans HERE.
Colorado
The Colorado Department of Public Health and Environment released its guidance for the state's ski areas, with a strong focus on working with ski areas' local public health agencies (LPHA). Each ski area must first submit its operational plan to its LPHA for approval, and the plan will then run up the ladder to the state for final approval.
"These guidelines draw from existing and well-known COVID-19 guidelines for industries, establish some new baseline standards to create common expectations for mountain-specific activities, and support the local planning and implementation of area-specific plans critical to success," the document states.
See the entire Colorado ski areas and resorts guidance HERE.
New Hampshire
The New Hampshire governor's "Reopening Task Force" came out with reopening guidance for the state's ski areas. It includes details about protecting customers and employees, as well as "Business Process Adaptations."
Specific guidance for lift operations, ski area shuttles, ski school, competitions, and more are all outlined. Face coverings are required indoors and in lift lines; gondola cabins can have a max of four passengers and windows must remain open at all times; indoor and outdoor capacity limitations will be determined; and online advance purchase for lift tickets, ski school, etc., are "strongly recommended."
See the entire New Hampshire Ski Areas COVID-19 Reopening Guidance HERE.
New York
Ski resorts in New York will be allowed to open at 50-percent indoor capacity beginning Nov. 6. Masks will be required at all times, except when eating, drinking, or skiing. Social distancing between parties will also be required at all times.
State guidance on the reopening of ski resorts also includes the following precautions:
Restrict gondolas/lifts to members of the same party.
Limit ski lessons to no more than 10

people.
Thorough cleaning and disinfection of shared/rented equipment.
Shuttles, food & beverage, retail service must conform to

state-issued

guidance.
Reduce

outdoor

capacity on mountain by 25 percent

during "peak" days or if

multiple trails are closed due to unseasonable conditions.
The New York guidelines for operators are very detailed. See the entire Reopening New York, Ski Facilities Guidelines for Employers and Employees HERE.