SAM Magazine—Fairfield, Idaho, May 19, 2021—Soldier Mountain opens its new mountain bike park May 21, after a raging wildfire last summer prevented the park's 2020 grand opening.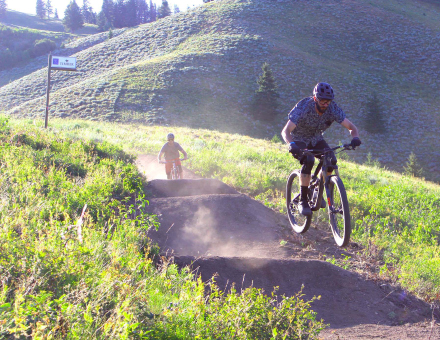 "We're excited to be opening our bike park," said Soldier Mountain general manager Paul Alden. "These trails are built to world-class standards, and we look forward to being the preferred local mountain-biking destination for riders of all ages and abilities."
Soldier Mountain was all set to celebrate the park's grand opening Aug. 7, 2020. Instead, on Aug. 6—around the same time a new ownership group had finalized its acquisition of the ski area—it was forced to evacuate staff and close its access road as the Phillips wildfire ravaged the property. The fire blazed directly under the main lift, causing damage to its comm line, haul rope, and chair slats. The bridge that provides the only access to the resort was destroyed, along with snowmaking equipment and a conveyor lift. 
After months of repairs, the ski area was able to open for winter 2020-21, and will now hold the new mountain-bike park's grand opening celebration May 22 with a live band, discounted tickets, giveaways, food, and craft beers.
The bike park will open with 7.7 miles of trails, ranging in difficulty from easy to extreme. It was designed and built by Hailey, Idaho, based Titus Trails and Apex Trail Construction from Park City, Utah, with help from Southwest Idaho Mountain Bike Association, Wood River Trails Coalition, and other volunteers.
Soldier added a skills park this summer and has plans to expand the trail network with the addition of a new hand-cut intermediate trail.
The park will be open Fridays-Sundays through the end of October, conditions allowing. Bike rentals will be limited because of the mountain bike and bike parts supply chain issues that have persisted due to the Covid-19 pandemic, said Alden.
Day tickets to the bike park will cost $29 for adults and $24 for youth. $179 summer season passes will be available through June 15, and guests who buy 2021-22 winter season passes can ride the park for free.