March 2014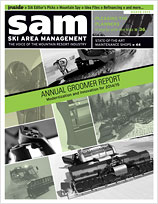 Grooming Vehicles 2014

Grooming vehicles are becoming more sophisticated in delivering a great end product and keeping operators happy.



Pleasing the Planners

The recipe is simple: Happy moms = return guests. Here's how some resorts accomplish just that.


SAM editors cruised the trade show floors of the SIA Snow Show to find new products for both employees and guests.
READ MORE



Leaving Breadcrumbs

Good resort signage programs should be cohesive and comprehensive, leaving little room for guests to be confused.



One Big Happy Family

After years of tweaking, Mt. Hood Meadows has refined its approach to newcomers with great success.


Efficiency is still Rule #1 for maintenance shops.
READ MORE



Global Learning

A sampling of best resort practices from around the world.



Idea Files

A work basket, a nozzle cleaner, and a gondola bay facelift are the latest great ideas from resorts.



On the Road

NSAA Western Conference & Trade Show... International ACCT Conference and Exposition... SIA Rental World... NSAA Eastern Conference & Trade Show


The ski industry, because it is fun, popular, beloved, pressworthy, and an economic engine in many states, has political power, the use of which is free.
READ MORE



Industry Reports

INTRAWEST HOLDS IPO... WOLF MOUNTAIN SOLD... SIA RETAIL NUMBERS SHOW HOLIDAY STRENGTH... OBITUARY... PEOPLE... SUPPLIER NEWS... CORRECTIONS



Managing Uphill Traffic

With the growth in uphillers, prudent policies and ample communication can reduce risks for all involved.



How to Finance the Future

A trail guide for traversing an avalanche of debt.



Dealing With Adversity

Wild swings in the weather challenged resorts across the country.


In this month's Mountain Spy, we tackled straightforward customer service. When a mother is bringing her brood up to your hill, how easy are you making life for her? A special shout-out to the French Canadians who nailed this one.
READ MORE



Blue Pages

MOUNT SNOW USE OF EB-5 VISA NO SNOW JOB... OKEMO REAPS REWARDS OF EFFICIENCY... SNOWBOARDERS V. ALTA: FIGHTING WORDS... COMMUNITY HILLS GET THE LOVE... OLD OWNERS NEVER DIE, OR EVEN FADE AWAY... UPSCALE CLOTHING RENTALS ROCK!... WEATHER AND LAWSUITS AND STRIKES, OH MY!